A cynic may call it a stab at relevance - a publicity stunt for the Lindau Nobel Laureate meeting, which has spent the week celebrating its 65th year with an interdisciplinary gathering of Nobel Laureates and young scientists.
This Friday it marks the 60th anniversary of the Mainau Declaration of 1955, which, drafted by nuclear scientists Otto Hanh and Max Born, made a joint appeal against the use of nuclear weapons.
The 2015 Mainau Declaration has a vast majority of Nobel Laureates attending this year's meeting signing a joint appeal, calling for action on climate change.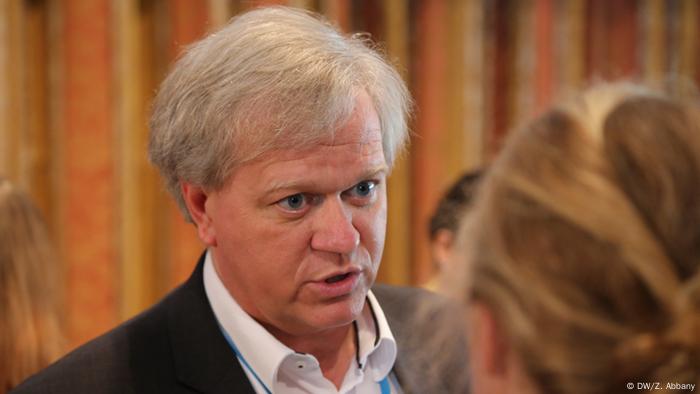 Action has to be taken now, Schmidt urged in Lindau
Except, as one of the initiators Brian Schmidt explains, the declaration's somewhat more sober aim is to support the scientific process behind climate change research.
"That process is what we're supporting, and we are very strongly of the view that that process has shown a body of scientific evidence [...] of deep and grave concern, and needs to be acted upon," says Schmidt, who is set to become vice-chancellor of the Australian National University next year.
As Schmidt's co-initiator, David Gross, has said, 2015 is a "critical year" for climate change. They see their declaration as a call to arms ahead of the United Nations Climate Change Conference, COP21/CMP11, meeting this November and December in Paris.
"There have been worldwide meetings since Rio and Copenhagen, and agreements and statements with no teeth in them," says Gross. "So it's hard to be optimistic, except […] for one, the US and China made a bilateral agreement with goals which they have committed to. Again, I don't know there's much power-legislation or teeth behind it, but it was an expression of national commitment of the two largest economies of the world."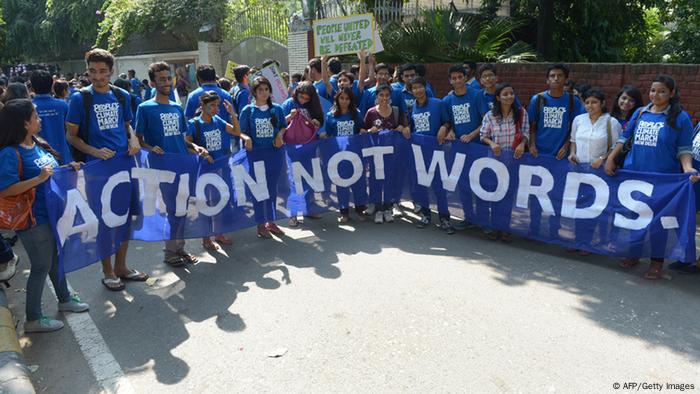 The Mainau Declaration is seen as a call to arms ahead of this year's UN conference
Skeptics and deniers
This "vast majority" excludes at least one Laureate who made his own headlines earlier in the week at the Lindau meeting as a climate skeptic.
During his talk "Global Warming Revisited," Ivar Giaver caused quite a storm among young scientists, including Noel Baker of NASA's Langley Research Center.
"He said NASA falsifies its data, and as a NASA climate scientist I wanted to make sure I set the record straight, so later on I approached him and I said 'We have a lot of good data and I implore you to look it up,' and he was a bit stubborn and said he got all of his information by just Googling it, Googling how to find global warming hoaxes, and that that information was enough for him to form his opinion," says Baker.
The incident is not lost on the Nobel Laureates behind the declaration - Schmidt and Gross have reflected on it with muted disappointment.
"I want to give everyone the opportunity to say yes or no," Schmidt told DW. "We haven't discussed it with him at this point [Thursday morning], so I want to give him the benefit of the doubt and make sure he knows what we're doing and respectfully acknowledge his point of difference."
But there's little chance of Giaver joining the declaration now - and as such, he becomes the second Nobel Laureate - after Tim Hunt - to have been left out in the cold in sunny Lindau.
Mainau setup
Schmidt was talking at a carefully orchestrated advance press conference on Thursday - all comments embargoed.
It was poorly attended by journalists, and that perhaps set the tone for some of the statements by the Nobel Laureates.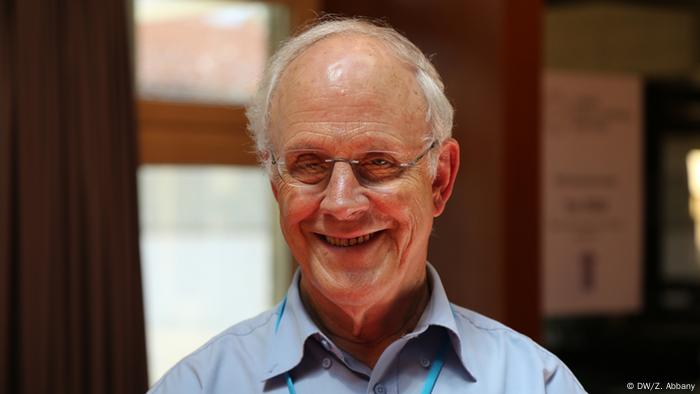 2015 is a critical year for climate change, claims Gross
Later, David Gross complained to DW the media was uninterested in asking detailed questions about the content of the declaration. It's a bit difficult to do that when you're not allowed to see the content. We were set up.
Still, the laureates say it's in part the media's responsibility to influence public opinion.
So how realistic is that? Say, in a country such as Australia, which has in the past seen mining magnate Gina Rinehart take a huge financial stake in the media?
Just as worrying is the political landscape in some countries.
"I find it very disturbing in terms of climate change," Nobel Laureate Peter Doherty told DW. "I think the minister Greg Hunt does what he can and I think he's a descent guy. I think the problem is, in that party [the Liberal Party of Australia], you've got very strong representation of various interests that are involved with the fossil fuel industry, you have a lot of just plain denial and people who will not inform themselves or deliberately misinform themselves, and you have the situation that they are totally in hoc to the Murdoch press who supports them 100 percent."
In an aside, Brian Schmidt told DW the Australian prime minister, Tony Abbot, does listen to him. His listening may not result in action, but he does listen.
The question is: who will listen and heed the 2015 Mainau Declaration? What are the chances it will have any affect?
"Very small," Gross told DW, "but greater than zero."
And is that good enough?
"No. But it's better than nothing."
Perhaps it would help if the Nobel Laureates dropped their skepticism - that of the media. Steven Chu, for instance, refuted all efforts for an exclusive comment, waving us away like a fly that had landed on his lunch in the sun.
But, then, as George Smoot put it at the press conference, Chu knows what he's doing, "he has experience as a government official."