Ramin Djawadi is touring Europe with the Game of Thrones Live Concert Experience until June 14, 2018. This interview was originally published in 2016.
DW: When was it clear to you that you wanted to become a film composer?
Ramin Djawadi: Very early on. I began making music at the age of four. According to my mother, once I just sat down at the piano and played back a tune by ear. My parents were watching and said to each other, maybe we should give him music lessons.
First, I started to play the organ. I did that until I was 11. From the age of 11 to 13, I gave up music entirely. And then at 13 I picked up the guitar, and after one-and-a-half years I started practicing intensively. I began playing in rock bands, and it was there that I discovered that the music I liked to write was always instrumental.
The film that most influenced me was the Western, The Magnificent Seven. As a child, I was a huge fan of Westerns. And for me, this movie - in addition to Star Wars, with its music by John Williams — was what made me realize just how much dramatic music can support a movie. After high school, I moved to the US and studied music in Boston, at the Berklee College of Music.
Read more: 'Game of Thrones' final season put off to 2019
After graduating, you started working for Hans Zimmer and his company, Remote Control Productions. How did you get your start there?
As is often the case, that was pure chance. After college in Boston, I was playing in a cool band that had been relatively successful. In the winter holidays, I always flew to Germany to visit my parents.
During the winter of 1999/2000, I was back in Germany where I met up with a very good friend, Uli Kurtinat. He has a guitar shop in Cologne — Uli's Musik — where I've been buying my guitars since I was a child. So he knows about my entire music career.
Every time I come back to Germany, I meet up with him for dinner — just as I did that winter. I told him about how I was playing in a band in Boston, but that I would actually prefer to be composing music for films. He told me that he knew someone who knew someone, and two weeks later I moved to Los Angeles and began working at Remote Control.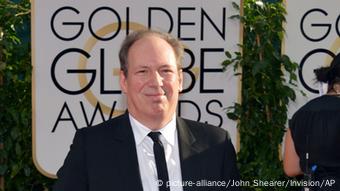 Veteran composer Hans Zimmer gave Djawadi his start in Hollywood
Would you say that your future career, working on independent compositions in films like Iron Man and Clash of the Titans, can all be linked back to your collaboration with Zimmer?
Sure — he was a great mentor, and I owe him a lot. He taught me how things work during the production of major films, and how to approach meetings with directors. The first films that I made were with Hans: Pirates of the Caribbean, Something's Gotta Give and Thunderbirds. I also did some work with him for Batman Begins, even though I was already doing my own stuff by that point, just because I was such a major Batman fan.
In addition to films you also wrote scores for computer games like Medal of Honor and TV series like Prison Break. And since 2011 you've been writing the music for Game of Thrones, one of the most successful TV series worldwide. How did you get involved with that?
That was thanks to my agent. The show's producers were interested in me. I got a call, and then a meeting was arranged. Before our meeting, the first two episodes of the first season were sent to me for review. I watched the episodes and my jaw dropped; it was already clear then how great, and how complicated, the series would be. After that, we met and talked about musical concepts.
Read more: 'Game of Thrones' creators to make new 'Star Wars' series
Game of Thrones is an incredibly multifaceted TV series, with many different characters, storylines and unexpected plot twists. How did you come up with a musical concept for the show?
The producers asked me that very question right at the beginning. Because there are so many storylines and characters, it would have been too complicated to give everyone his or her own musical theme. That's why we decided to only write themes for individual plots and specific families.
Alfie Allen (left) and as Sophie Turner star as Theon Greyjoy and Sansa Stark
If a character from a particular family ends up moving into the foreground, then in some cases we've also developed an original theme for him or her. We let ourselves be guided by the plot. I always use the character of Theon Greyjoy as an example. In the first season, when he didn't have much to do, he didn't have his own theme. But once he began to do his own thing in the second season and became more of an important figure, then we began developing a score for him. In that way, we've continuously expanded the show's music.
Game of Thrones is set in a mystical, imaginary world — and yet the music sounds quite modern, nothing like the folklore-heavy sound that dominates many other fantasy films. Did you make a conscious decision against that classic medieval sound?
Definitely. Despite these thematic elements, and the medieval aspect of the series, we decided to tackle the music differently. Initially, I was told not to use any flutes, an instrument that's often featured in The Lord of the Rings, for example. And so I had to think about which instruments I wanted to work with. The deep sound of a cello, for example, stands out quite prominently. Game of Thrones is mostly a very dark series, and so the cello fits very well into the soundtrack.
In pieces like "Love in the Eyes" from the first season, you also included some ethnic instruments and sounds. Did you draw musical inspiration from your Iranian roots?
Absolutely. And I think that was something that the show's producers found interesting. They wanted a "global sound," I think. The fact that we are in this fantasy world with characters like Daenerys Targaryen and the Dothraki people with their ethnic traits allowed us to open the door to instruments like the taiko [Japanese drum] and the duduk, a wind instrument with a different sound from the flute. I collect many ethnic instruments, and as a guitarist I'm usually able to play any sort of instrument — as long as it has strings. That's why I like to experiment with different sounds.
What does your typical schedule look like, as a composer for Game of Thrones?
Interestingly, it's quite unlike most television series. Game of Thrones is like a 10-hour movie. All the episodes are filmed from July to December. When I start with the music, everything has already been completed, though it may still be lacking the final edit. But I'm able to get a rough idea of how the story is developing. Then, I meet with producers for a so-called "spotting session," in which we look at each episode and discuss where the music should begin and end, and what it should achieve dramatically. Each individual scene is discussed, and then I start to write the music. Some time later, we meet again and I play back the music I've composed, and we discuss any changes. Each episode goes through this process.
Read more: 'Game of Thrones' stars Kit Harington and Rose Leslie are engaged
Just a quick glance at the sixth season, which will start airing on HBO in the US on Sunday April 24. Was there anything special about your work this time around?
I can't say too much, but after every season of Game of Thrones I think, wow, that was great! How will they be able to expand this series and make it even better? And when I get the next season, they've always managed to top themselves. That was the case with the sixth season as well. It's incredible, everything that's happened so far. And I'm still right in the middle — I haven't even finished writing the music yet.
Ramin Djawadi was born in 1974, the son of a German mother and an Iranian father. After studying music in the US, he began working for the well-known German film composer Hans Zimmer. In the years since, he has found success of his own with soundtracks for films such as Blade: Trinity, Iron Man and Clash of the Titans. Since 2011, Djawadi has been composing the music for the hit US fantasy series, Game of Thrones.