With 40 percent of the German electorate still undecided, the two main candidates in the national election had everything to play for. Twenty million people watched the TV debate, hoping to see a clear winner emerge after 90 minutes. But there was no real heated political debate from the two partners in Germany's four-year-old grand coalition.
Two snap polls held after the debates came to very different conclusions. A poll by German broadcaster ZDF showed 31 percent for SPD challenger Steinmeier as the winner of the TV duel compared to 28 percent for Merkel. A poll conducted by Forsa poll had Merkel in front with 37 percent, against 35 percent for Steinmeier.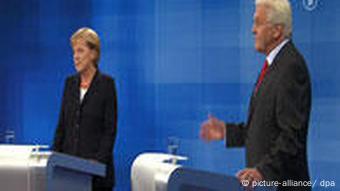 The fireworks were missing in the chancellor debate
But asked which candidate was best qualified to run the country, 58 percent chose Merkel compared to 28 percent for Steinmeier, a poll by broadcaster RTL showed.
Dressed in dark business suits, both candidates emphasized what they had achieved in the last four years in a coalition government. For Steinmeier the stakes were higher. The SPD challenger had to score points to make up for a poor showing in the polls.
"We have achieved a lot. Quite a bit of it since the crisis and we may only have done so because there was a grand coalition," he said.
"But we haven't managed everything, we fell short of what we could do in a number of areas because the CDU didn't go along with it. For example on minimum wages and limiting executive pay. That would have helped people."
Merkel agreed that they had "worked well together" but said that to turn around the economy after the financial crisis she would prefer the liberal Free Democrats (FDP) as her junior coalition partner.
"I think we could make more progress on jobs which is why I'm appealing for a new government," she said.
"The past has been good and you won't change my mind about the fact that we have got a lot done. But I think for a democracy it's good when grand coalitions don't become normality."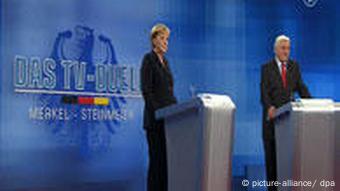 Duel or duet?
German Foreign Minister and Vice Chancellor Steinmeier spoke of a change in political direction, emphasizing that voters had a clear alternative to a future coalition between the Christian Democrats and Free Democrats.
Merkel and Steinmeier both tried to claim credit for the rescue of car maker Opel after Canadian-Austrian parts maker Magna agreed last week to take over the troubled General Motors' subsidiary.
Most political observers agreed that the more "presidential" Chancellor Merkel showed her crisis management credentials while Steinmeier scored points on social equality.
Much of the 90-minute debate focused on ways out of the economic crisis with Merkel arguing in favor of tax cuts to stimulate demand. Merkel and Steinmeier also discussed managers' salary and bonus payments, minimum wages and nuclear energy.
The candidates voiced broad agreement on Germany's military presence in Afghanistan, arguing against a premature withdrawal of troops.
nrt/dpa/AFP/Reuters
Editor: John Kluempers