Looking down from a windy rooftop terrace the view over Lagos is stunning. This is Yabacon Valley, the heart of Nigeria's start-up scene and its answer to Silicon Valley. It's still early and there are only a few people around networking. Most have their heads down, checking their emails and answering messages.
Co-Creation Hub (CcHUB) provides the space so that young people in Nigeria's first tech hub can make and use their connections quickly and easily. Toun Tunde-Anjous is the personnel manager of the hub. She explains that the idea for it came about seven years ago. The founders, Bosun Tijani and Femi Longe, wanted to create a hub where young people could put their minds to try and solve Nigeria's many social problems.
Offering medical solutions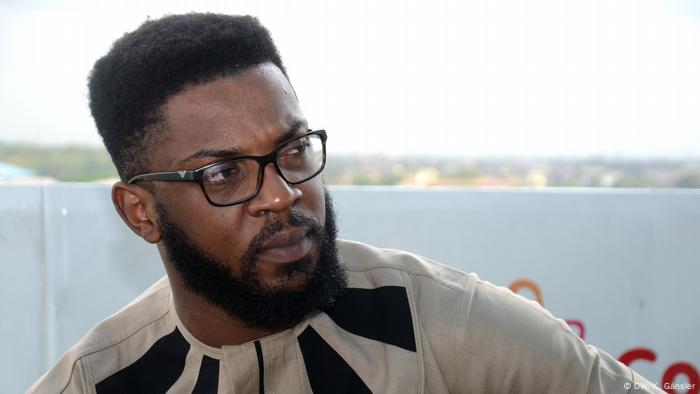 Aftre studying medicine abroad, Debu Odulana studied medicine came back to Nigeria to help improve healthcare in Nigeria.
Debo Odulana was one of the first members of the hub. He was keen to improve daily life in his country. After living abroad for a couple of years he was shocked when he returned to Lagos in 2011. "As a medical doctor I trained in the U.A.E. I went to the medical school in Dubai and when I moved back to Nigeria I realized that infrastructure was a very big problem."
He added that although the current infrastructure was built well initially, the maintenance, in his opinion, has been so poor that the whole infrastructure has degraded. He decided to build a private clinic, but quickly found that was not easy either: "I noticed that doctors had a problem with starting a private practice because if they started a small clinic it [would] be difficult to make enough money to keep it running." Partly out of frustration, partly out of a wish to try something new, Doctoora was born. It's a clinic in Lagos where medical doctors can rent healthcare facilities. But it's also a website where clients can browse the healthcare network to find the right practitioner.
Creating choice
"With our project we have decided to go the infrastructure route. By providing this infrastructure we are taking out a lot of the overheads in healthcare because we are not running like a typical healthcare facility that must be functional all day. So if we don't have clients we don't have to turn on the lights for example," Odulana said.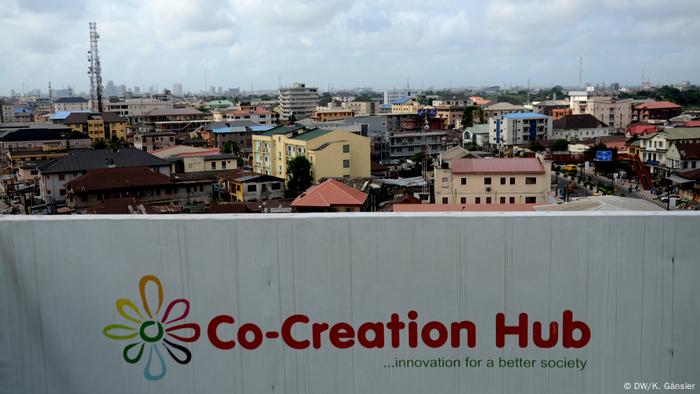 Co-Creation Hub provides infrastructure and support to young entrepreneurs who are hoping to change Nigerian society.
That's one way to save money and to keep the business running. Though it would never have been possible to start the project without support; as Debo explains it is very hard to get funding in Nigeria. That was another reason to create CcHUB in 2011, says Toun Tunde-Anjous: "What they have done is to create an environment where entrepreneurs are supported, where they are funded. They are supported through linking them with networks, providing them with a location, providing them with the right resources and tools to ensure that their businesses grow from just ideas into businesses that thrive and businesses that can scale."
That might sound a little strange to some people. All over Africa, Nigerians have a reputation for being canny entrepreneurs. In 2017, the country claimed the title for the largest economy on the continent with a GDP of $400.6 billion (€341 billion). Wherever you go in Africa, you'll come across Nigerian shops.
'Developing start-ups is different'
But despite all this business know-how, developing startups is a little different says Matthias Fröhlich-Rehfeld. He works for the project MakeIT in Africa which is run by the German Development Corporation (GIZ). The project supports up to 50 start-ups in Kenya and Nigeria.
"What is new here is the way start-ups work. How people need to be supported and brought together, so that their great ideas can be developed. That is what CcHUB and ImpactHUB are doing. This kind of support doesn't just help people have ideas, but allows them to implement those ideas and be successful with them. That is what is changing now," Fröhlich-Rehfeld told DW.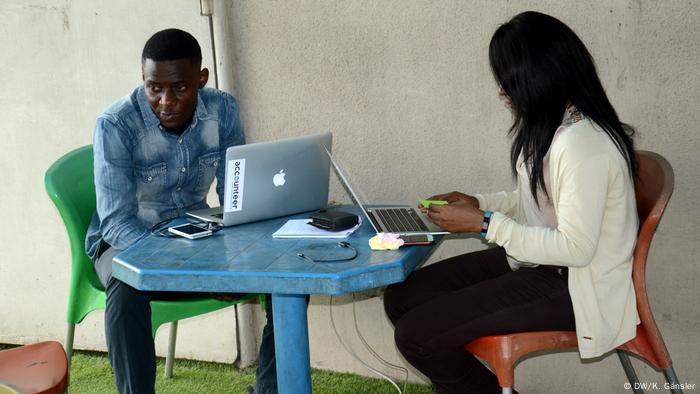 Co-Creation hub provides an opportunity for young entrepreneurs to make connections and work with like-minded people.
Today young entrepreneurs at the hub offer a wide range of services. From e-commerce and payment services to health, entertainment and civic education, which is what BudgIT concentrates on, as Toun Tunde-Anjous explained:
"I think the issue we had before, in the past, was a lot of people would not vote or would not engage in voting or would not engage in anything that had to do with the government because they just did not understand it. But they [BudgIT] have broken it into simpler terms. [Through them the processes are] more transparent and people are aware of what the government is doing. And beyond just being aware they are able to ask questions. So BudgIT I think has been successful."
But do all these small enterprises really change society? Here in Lagos they seem to provide services for a middle class. Daily life for the majority of Nigerians is a world away from the cool start-up hub. According to various estimates half or even more of the population of 190 million people live below the poverty line on less than $1.9 (€1.6)per day. Despite that, Matthias Fröhlich-Rehfeld is optimistic:
"We believe digitalisation, when used the right way and by the right people, can be a driving force to change the economy. Start-ups are really the drivers for economic and social change in a lot of countries in Sub-Saharan Africa."