Loveth Ekumabor recently returned to Benin City, the capital of Edo State and Nigeria's epicenter of migration, having traveled across northern Africa in hopes of reaching Europe. Her journey, like that of thousands of others, however, ended in Libya.
The 21-year-old woman, who came back to Nigeria in December 2017, is heavily pregnant. When asked who the father of her child is, she just replies: "My child doesn't have a father."
Her answer leaves little to no room from interpretation. Loveth got pregnant in Libya, probably against her will. She doesn't want to speak about it. When she realized that her plan to start a better life in Europe was failing after more than a year of migration across several North African states, she contacted the International Organization for Migration (IOM) to help her return to Nigeria.
"The situation wasn't good, and so I decided to go back. IOM was very helpful, and so I returned on December 1."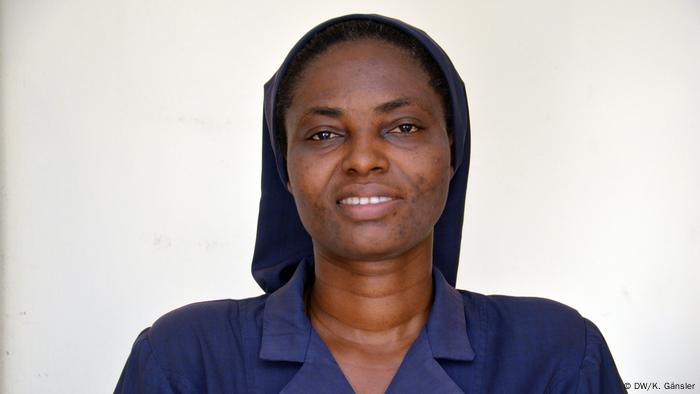 Sister Anthonia Iyade helps women who have returned to Nigeria in their endeavor to find new prospects
Loveth is one of several women currently living at the "Welcome House" run by the Committee for the Support and Dignity of Women (COSUDOW) – an initiative organized by Catholic nuns aimed at providing a safe house to young women without families.
Thousands of Nigerians still in Libya
More than 7,300 Nigerians have returned home from Libya in the past 12 months with the help of IOM. The UN body charters flights from Libya to Nigeria's major cities, including Lagos, Port Harcourt and Benin City. Since November 2017, the number of returnees has skyrocketed – ever since US news broadcaster CNN shared a controversial video showing African migrants being sold off as slaves at a market outside the Libyan capital, Tripoli.
The Nigerian government also stepped up its own response to the refugee crisis after the CNN report, trying to speed up the return of Nigerians stranded in Libya. However, the Nigeria's deputy IOM director Frantz Celestin says that the country will still take months to accomplish that task. In addition to registering all potential returnees, there simply aren't enough airplanes available.
"There's not enough to even charter, enough companies. The Libyan authorities restrict the type of aircraft that can come. And they usually want it to be a Libya-based company," he explains.
According to IOM sources, there are currently 36,000 Nigerian refugees registered in Libya.
Return without perspectives
Rosemary, a single mother of four is one of those who have also managed to return. Upon her arrival in November 2017, she was at first relieved to have distanced herself from the inhumane conditions she had encountered in Libya. But that sense of relief has since turned into anger, with Rosemary finding herself having come full circle to where she had started off a year earlier:
"(When we arrived) we were given 40.000 Naira (€90). That is what they give us, each and every one of us. 40.000 Naira is not going to do anything. As I came back, I knew there would be no food in my house. I just used the money to buy food and take it to my children."
Rosemary, who doesn't want to give her full name, is in dire need of help. The father of her children is no longer alive; during her time in Libya, her mother was the one who had to look after her children - three girls aged five to nine and her two-year-old son.
"I was so happy to see her alive. She came back safely," Rosemary's mother, whom she refers to as Mrs. Pat, says. Mrs. Pat didn't even know at the time that her daughter wanted to emigrate. All of a sudden, she simply was gone.
"When I looked for her, I didn't see her. I used to call her phone, but she didn't pick up."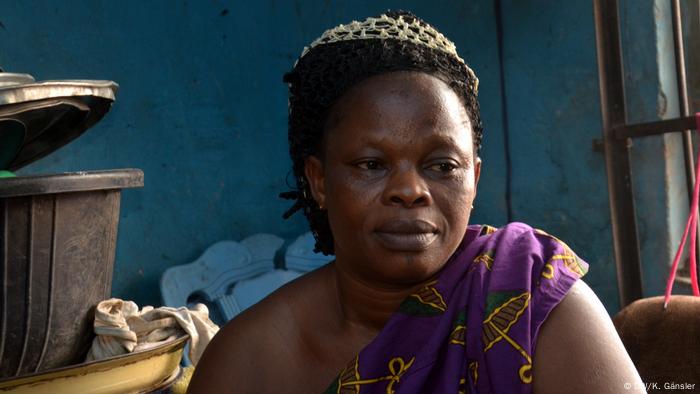 Mrs. Pat is happy to have her daughter back despite the ongoing hardship the family faces
As opposed to many other migrants, Rosemary's family at least didn't have to go into debt in order to help her embark on her journey. Many of the returnees have to get work as soon as they get back to pay back their loans to their families. Nevertheless, Rosemary still can't afford to buy food for her children, support her mother financially or even rent a room to live in, which in the poorer parts of Benin City costs about €9 to €12 a month. She stays with friends here and there.
There are many other returnees who end up in a similar situation, Sister Anthonia Iyade from the "Welcome House" explains. She says that the government has plans to help the returnees, but adds that they need to be patient:
"Most of them are thinking: What am I going to do? What is my future like? They want something to do. Not just sit and wait."
Many returnees contemplate renewed migration plans
While several initiatives are already in place to help returnees integrate back in Nigeria, experts like Frantz Celestin predict that up to 40 percent of all returnees will take a second attempt at migrating north, as few seem to see long-term opportunities in Nigeria.
"We need something that is consistent, and they see that they can develop. There's no ceiling in their country. So we have processed a business management training, schooling, employment placements and resume writing, soft skills. We're building their capacity at a level that would make them attractive to the job market," Celestin says.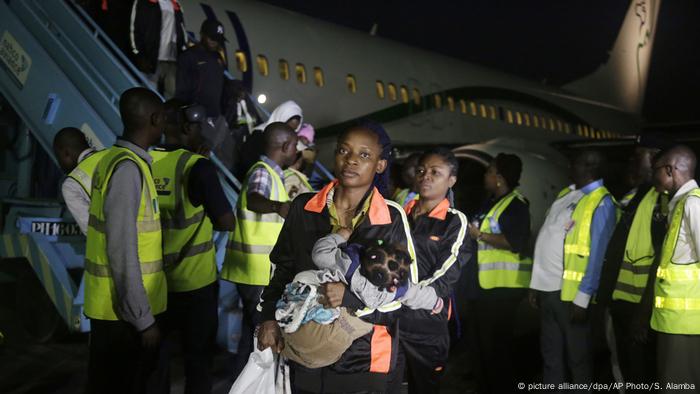 Thousands of Nigerian migrants are still waiting to return from Libya
Not everyone seems to be keen on leaving Nigeria again. Expecting mother Loveth wants to stay in her homeland: "Once my baby is born I'd like to go back to school. And after finishing school I want to find work," she says. However, Loveth is still waiting to be admitted to a school.
Rosemary also wants to start working to earn money. But she also wants to see more assistance coming from the Nigerian government.
"There in Europe, their governments do something for their people. I know a child from there will be well taken care of. A citizen there will be ok. I want it to be like that in Nigeria."