Following last year's deadly attacks on crowds on a Manhattan jogging path and at Times Square, hundreds of new protective barriers will be permanently installed at Times Square and other key locations around New York in an effort to block vehicles from hitting pedestrians.
Renowned internationally for its New Year's Eve ball drop, Times Square is also crowded throughout the year with tourists, costumed characters, sightseeing bus hawkers and office workers.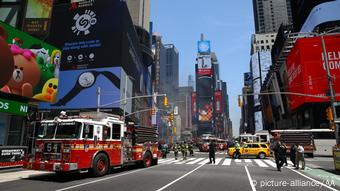 Firefighters on the site of an attack at Times Square in May 2017, when a Navy veteran killed a teenage tourist and injured 22 others
"Having experienced the safest year in the city since the 1950s, we know we have to work to make this city even safer. These bollards will make sure vehicles can never come into places where pedestrians are," Mayor Bill de Blasio said Tuesday during the announcement at Times Square. "These are some of the busiest streets in the world. People have to get around, but they also have to be safe," de Blasio said.
The city will spend $50 million (€41.5 million) on the installation scheme, which will begin with temporary bollards that will be replaced with permanent fixtures from March. Total installation is expected to take several years.
fm/eg (dpa, AP)