French railway workers are stopping work again on Saturday and Sunday as they continue a series of rolling strikes that began on April 4.
State railway company SNCF said half of scheduled high-speed TGV services and three out of every five regional trains would be cancelled.
The strikes are planned to continue at least until the end of June as a protest against plans by President Emmanuel Macron to reform the company, which has run up debts of more than €46 billion ($55.9 billion). Staff have been on strike for two days out of every five since starting their protest campaign.
Read more: What's to be done with France's SNCF?
Raising the retirement age
The reforms, which have been approved by the National Assembly, the French lower house, foresee bringing in competition on the railways and introducing ordinary employment contracts for future workers at the company.
Currently, SNCF staff are guaranteed employment for life and can retire at age 52 or 57, depending on what they do.
Prime Minister Edouard Philippe is due to meet railway union representatives for talks on May 7, but has suggested that he will not be compromising on the government's firm stance.
Rail unions broke off a series of talks with Transport Minister Elisabeth Borne last week, insisting on negotiations with the premier instead.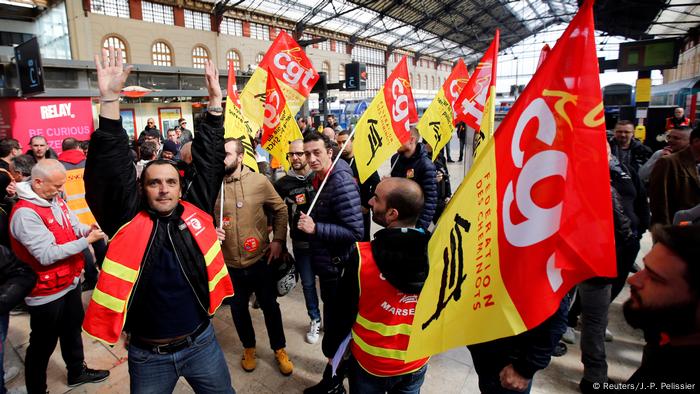 Railway workers have called another nationwide protest for May 3
Standing firm with popular backing
Macron has pledged to push through his reform plans "to the very end" — something that no French government has so far managed to do in the case of the SNCF, despite several attempts by previous administrations.
The president says the changes are all the more necessary in view of the fact that the EU wants to open passenger rail services across the bloc to competition by 2020.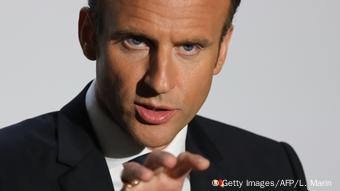 Macron came to power on pledges of economic reform
And this time round, Macron seems to have a slight majority of French on his side. A survey by the Elabe polling institute released on Wednesday showed 53 percent of respondents felt that "the government should not modify its reform even if there are protests."
That is an increase of 4 percentage points over a similar survey conducted just some two and a half weeks ago.
Macron's popularity ratings have also risen for the second month in a row, with an Ipso Game changers survey, also from Wednesday, showing support of 40 percent, against 37 percent a month before.
Read more: Emmanuel Macron — French savior or tormentor?
tj/jm (dpa, AFP)
Each evening at 1830 UTC, DW's editors send out a selection of the day's hard news and quality feature journalism. You can sign up to receive it directly here.