With the eurozone scrambling to restore confidence in troubled nations like Greece, Ireland, Portugal, Italy and Spain, a political hurdle has emerged as those nations face the downgrading of their creditworthiness by international ratings agencies.
Now a new European credit ratings agency is being formed in order to counteract the influence of the "big three" US-based agencies: Moody's, Standard & Poor's and Fitch.
The creation of the new, privately-financed ratings agency is expected to cost 300 million euros ($425 million), according to a report in the monthly finance magazine Capital.
Markus Krall, a partner at the Munich-based consultancy Roland Berger, has been actively lobbying for the cause for the past 12 months. He told Capital the agency would be created as a consortium of up to 25 participants investing 10 million euros each. Deutsche Bank CEO Josef Ackermann reportedly supports the model.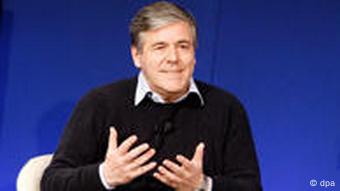 Deutsche Bank chief Josef Ackermann reportedly supports the proposed ratings agency
Political support
Capital reports the new agency would be established as an independent, non-profit foundation by the end of 2011. It would issue its first sovereign debt ratings in the second quarter of 2012 and add bank ratings to its product portfolio in the second half of 2012.
Evaluations of companies and financial instruments would be ready for release in 2013, by which time the agency would employ 1,000 people across all major financial centers.
Krall told the magazine the new agency would differ from the "big three" in that its ratings would be financed by investors instead of the companies issuing debt. While the major US-based ratings groups typically charge a million euros or more to rate a DAX-listed company, the new European body would charge less than half that amount.
In German politics, support is strong for a new ratings agency to break the dominance of established players. Former Economy Minister Rainer Brüderle - who is now parliamentary leader of the pro-business Free Democratic Party - recently called for a reform of the ratings market.
Meanwhile, Reuters has learned a number of wealthy German families are pushing for the establishment of a new ratings agency based in Switzerland. They hope to put distance between the new agency and the politics of Berlin, but are yet to secure long-term investment, the wire service reported.
Author: Gerhard Schneibel (AFP, Reuters)
Editor: Sam Edmonds