Sher Bahadur Deuba, head of the centrist Nepali Congress party, stood unopposed in Tuesday's parliamentary election.
In a live television broadcast, Parliament Speaker Onsari Gharti Magar announced that 70-year-old Deuba had received 388 votes, with 170 lawmakers voting against him.
It's the fourth time Deuba will serve as prime minister of the Himalayan nation. But, with new elections scheduled to take place before January 2018, he's only expected to be in power for a few months.
Deuba will head a coalition government with the Moaist Center Party, led by his predecessor, former guerilla chief Pushpa Kamal Dahal.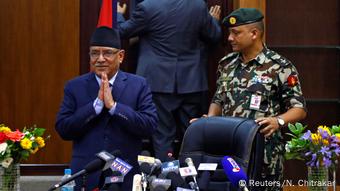 Dahal announces his plans to step down before the media
Key elections
Dahal resigned as prime minister last month as part of a deal to transfer power to Deuba once long-awaited local polls had taken place in Nepal. The first round of those elections - the first held in 20 years - were staged in May. One of Deuba's first tasks will be to complete the second round for the rest of the municipalities on June 28.
"I am committed to hold all three levels of elections," Deuba said, referring to local, provincial and parliamentary polls.
Nepal's new constitution, signed in 2015, mandated that local elections must be followed by polls at provincial and national levels by January 2018. The provincial polls could pose a challenge for Deuba, mainly because the Madhesi ethnic group in the country's south has vowed to obstruct the vote unless the size of their territory carved out in the constitution is expanded to give them a greater political voice.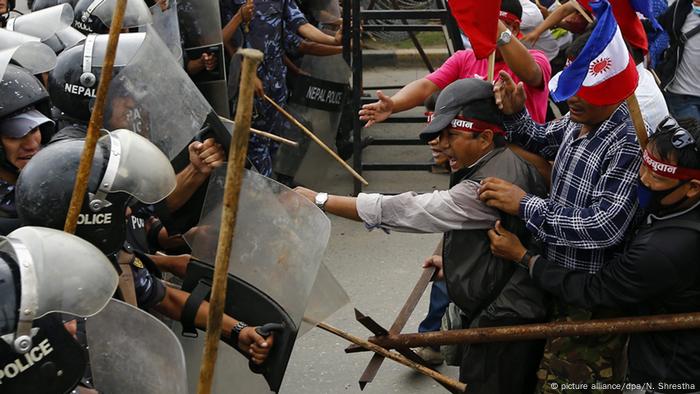 Activists from the ethnic Madhesi community clash with riot police during anti-government protests in Kathmandu in 2016
Keeping India and China happy
Deuba will also have to juggle the interests of the country's giant neighbors India and China. Beijing has voiced concerns about anti-China protests by exiled Tibetans in Nepal, while Delhi fears militants could enter Indian territory through the open Nepalese border.
"I want to assure both China and India that we will not let our territory be used against either nation," Deuba said.
Deuba first became the prime minister in 1995 and ruled for two years. His second term (2001-2002) was cut short by then King Gyanedra, who fired him, calling him incompetent for failing to contain a Maoist insurgency. He was reinstated for a third term in 2004, only to be removed again in 2005 when Gyanedra seized absolute power.
Popular protests against the king saw a democratic government retake control the following year and sign an agreement with the Maoists to end the conflict. Two years later the country was declared a republic.
Kunda Dixit, editor of the weekly Nepali Times newspaper, said Deuba's history didn't inspire a great deal of confidence.
"He comes with a lot of baggage," Dixit told Reuters. "Every time he was appointed or sacked as prime minister, he has left democracy in a crisis."
nm/jm (Reuters, AFP, AP, dpa)