Nepalese voters headed to the polls on Sunday in local elections that were the first to be held in the country since 1997. Polling stations closed across the country at 5 p.m. local time (1115 UTC). Voter turnout was estimated to be around 71 per cent.
Ballot boxes are now being taken to polling centers in Kathmandu and in other districts in the country's three provinces. Helicopters were used to transport ballot boxes from remote, mountainous regions in the north.
Nearly 50,000 candidates stood for 13,556 positions as mayor, deputy mayor, ward chairman and ward member in 283 local municipalities.
The election is to take place in two phases owing to fears of election-related violence in four remaining southern provinces, with the second poll scheduled for June 14.
Since 2002, when the five-year mandate of the previous elected government representatives expired, local positions have been occupied by government-appointed bureaucrats. Elections could not be held amid a 10-year communist insurgency that ended in 2006, which was followed by years of delay in drafting a new constitution.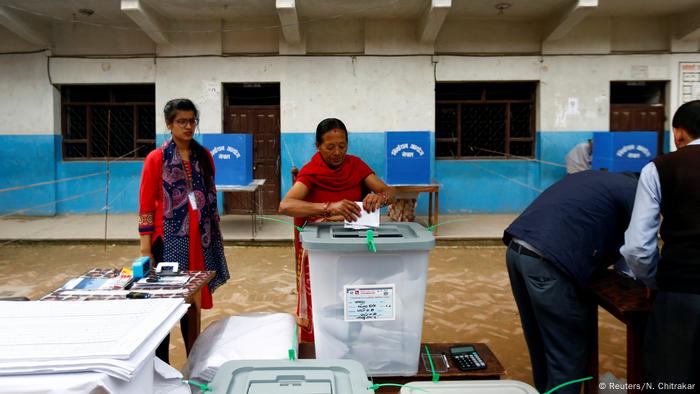 Nepal's path to full democracy is fraught with challenges
Controversial constitution
Since the end of the insurgency with a peace deal, the Himalayan nation has been undergoing a transition from a Hindu monarchy to a secular republic. The new constitution, written as part of the peace accord and laying out rules for provincial and parliamentary polls, was finally adopted in September 2015.
The constitution, however, was not to everyone's taste, and ethnic groups in the south protested for months at what they saw as a marginalization of their interests. A threat by the minority Madhesi community to boycott the local polls unless the constitution be rewritten is what has forced the government to hold the elections in two phases.
The government has pledged to vote on an amendment to the constitution after the election on Sunday, but the fragile ruling coalition is having difficulty bringing together a sufficient majority to get the bill passed.
The first phase of voting was mostly peaceful, though an army ordnance disposal team safely detonated two explosive devices planted opposite a candidate's house in the capital, Kathmandu.
tj/rc (AP, AFP)