Demonstrators carrying flags and chanting slogans pushed up against a police cordon in Kathmandu's administrative center on Sunday, blocking a main street leading to the prime minister's office.
Some protesters also reportedly tried to break through the cordon but were pushed back. Stones thrown by the crowd smashed the window of a government jeep, but no one was seriously hurt, the police said.
The protesters - led by the Madhesi minority group - are demanding changes to the Himalayan nation's constitution, which was adopted last year. Several other ethnic minority groups also joined Sunday's protests.
"The government is not serious about our demands and is moving forward independently, even reversing the agreements we have reached in the past," Upendra Yadav, chairman of a regional party representing the Madhesi community, told the Agence France-Presse news agency.
The protesters have said they will continue their demonstrations until their demands are met.
More representation, more local autonomy
The Madhesis are opposed to the new constitution, which was adopted by the Constituent Assembly in September after years of delays and was the first drawn up by elected representatives.
They argue that the seven federal states established under the new charter have borders that cut through their ancestral homeland in the south of the country.
They have demanded more government representation and more local autonomy; several rounds of talks with the government have yet to yield an agreement.
Many Madhesis want their region - home to half of the country's 28 million people - to become an autonomous state within Nepal.
Covering about a quarter of the landlocked country, the region provides rice and wheat and is home to industries that include jute and sugar.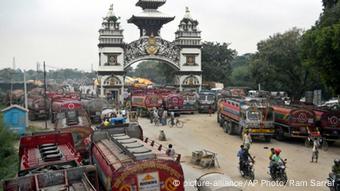 Nepalese oil tankers and commercial trucks were stranded on the border with India last year
Constitutional aims
The constitution is meant to support Nepal's transformation into a democratic republic after decades of political instability and a 10-year Maoist insurgency that ended in 2006.
The unrest has undermined the position of Prime Minister K.P. Oli, who survived an opposition attempt to topple his shaky coalition in early May.
Protests between September and February this year saw over 50 people killed and key border points with India blocked, resulting in severe shortages of fuel, medicine and other supplies.
jbh/cmk (AFP, AP, Reuters)