Half a century ago it was normal for German children to be given a quick smack or a slap on the behind - often by the father's own hand, or with a leather belt. Back then, those were accepted methods of raising children, designed to instill discipline and obedience. Luckily, times have changed - although it seems that's not the case in every family.
According to a survey released on Monday in Berlin, four out of ten parents admit to giving their children the odd smack on the bottom, and ten percent have slapped their children across the face.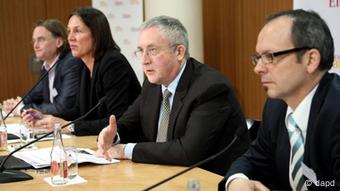 The study found that corporal punishment is on the decline
The figures were published by the renowned opinion research center, Forsa. Oliver Steinbach from the parents magazine, Eltern, which took part in the study, helped to evaluate the results of some 1,000 representative interviews. He says that modern parents have different reasons for their outbreaks of violence:
"Many of these parents are overstretched and have a knee-jerk reaction when their kids act out of line. The parents quickly regret the slap or smack."
Many of the postings on the magazine's website, eltern.de, show a similar story, adds editor Marie-Luise Lewicki. Many parents write that they are ashamed of having resorted to hitting their children and with hindsight explain their behavior using external explanations - such as pressure at work.
On the decline
The Forsa study reveals that the majority of parents think that corporal punishment has little or no pedagogical benefit.
"Punishing children with force is clearly on the decline," Lewicki explains, with reference to a previous study in 2006.
"Germany is part of a worldwide trend in this regard," says Steinbach. In all western industrialized nations, as well as in Africa and China, the use of corporal punishment to discipline children is decreasing. That's on the one hand due to rising levels of education, but also because of state laws, which prohibit violence against children.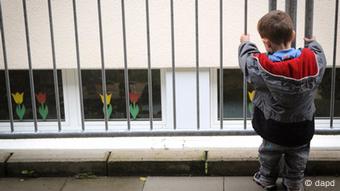 40 percent of parents admitted to smacking their children
Corporal punishment of children was banned in Germany in 2000. "On an international level, Germany lies somewhere in the middle," Steinbach says. At the top of the list is Sweden, which implemented anti-violence laws in 1979 and today has the lowest use of corporal punishment.
Children have become more critical
A second study was also released at the same time as the Forsa-survey. "Parents" magazine wanted to know what today's children think, feel and hope for. The opinion research center "Iconkids & Youth" interviewed some 700 children between the ages of six and 12.
"Children are born optimists, but they have become more critical," said head of the institute, Axel Dammler. The vast majority - 71 percent of children - think that "many adults don't like kids and feel bothered by them." And 68 percent agree, "that politicians always say they want to help people, but they don't actually do anything. Children have a greater understanding today of what's going on in the world," Dammler explained, "and they feel isolated in many situations."
Another statistic that may raise a few eyebrows is that 60 percent of the children interviewed want to be more grown-up. "That's down to the trend of over-protecting kids," Dammler believes.
What used to be completely normal - making your way to school on your own, falling off your bike or out of trees, picking up bruises, tumbling around with other children - is nowadays forbidden by many over-anxious parents, he says. That means that children lose their independence and self-confidence - and they want to grow up and become adults straight away.
More relaxed in the East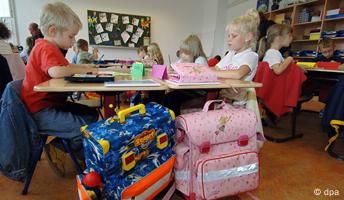 Many children in the east attend school for the whole day
"Both studies discovered clear differences between children from working class families and the offspring of academics," says Marie-Luise Lewicki. But there are also marked discrepancies - even 22 years after the fall of the Berlin Wall - between children in East and West Germany. The children whose parents grew up in the former German Democratic Republic (GDR) were on the whole more optimistic and had a more positive view of their situation. They were more enthusiastic about school than their western counterparts and they had little fear of unemployment - even though the jobless rates are higher in the east than in the west.
"That could be because there are more all-day schools in the east," Lewicki said. "Children can learn more about organizing themselves, about social behavior and self-awareness." Axel Dammler believes that greater independence from parents instills in their children a greater sense of self-confidence.
On the whole, children in Germany seemed very satisfied with their parents. Ninety-one percent of children agreed with the statement that their parents were the best parents they could imagine. But Marie-Luise Lewicki believes it may be time that society doesn't hold parents responsible for everything, and makes the task of bringing up children a more relaxing experience.
Author: Kay-Alexander Scholz / ji
Editor: Gabriel Borrud