The Germans have breathed a sigh of relief at the NATO Summit in Chicago. The relationship with France is proving to be more robust than expected. "Of course we had some troubles on the way to Chicago," Foreign Minister Guido Westerwelle said on Monday. Westerwelle warned of a "race for the exits" because new French President Francois Hollande had promised during his election campaign to withdraw the 3,300 French troops from Afghanistan. However, the worries were dispelled during the NATO meeting. "The alliance isn't fraying," Westerwelle said.

Hollande's counterparts were sympathetic to something that is not too foreign to them: an attempt to fulfill a campaign promise. The compromise solution is that the French will withdraw their combat troops by the end of the year, but instructors will remain in the International Security Assistance Force (ISAF) compound in Afghanistan. The Germans, are mainly relieved that Hollande has acknowledged NATO. The French only fully returned to the military alliance under Hollande's predecessor Nicolas Sarkozy.

Chancellor Angela Merkel reiterated that she saw "no danger" of a chain reaction in which other states could withdraw their troops prematurely, following the French example. After all, in Chicago NATO has confirmed its schedule for Afghanistan, under which combat troops will be withdrawn as planned until mid-2013. By then, the Afghan security forces will be in charge of security throughout the country; currently they have 75 percent under their control.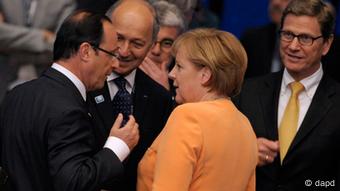 Francois Hollande and Angela Merkel sat together - because France follows Germany, at least in the alphabet
Timetable confirmed

But NATO will remain engaged in Afghanistan after 2014, to "train, advise and assist." The strategy paper adopted by 50 countries in the Afghanistan special session within the NATO summit gives an idea of how the German military mission in Afghanistan could look in the future, said Defense Minister Thomas de Maizière: "Above all, this means a clear legal basis provided by a UN resolution; a NATO-led mission; a non-combat mission, consisting of advice and assistance, but also a safety component for the trainers who are there; and it should be long-term." The German parliament will decide on the mandate in 2013.

De Maizière warned against too much optimism regarding the security situation in Afghanistan. Gen. John Allen, the Supreme Commander of NATO forces in Afghanistan, was optimistic in his report at the NATO meeting, but also pointed to the risks: "We fully expect that combat is going to continue."

The NATO countries still believe an orderly withdrawal is the right strategy. Even the host, US President Barack Obama, said he would withdraw 33,000 U.S. troops by the end of summer. These are the soldiers, the president had sent as reinforcements to Afghanistan in 2010. Some 10,000 of them were withdrawn in the last year. Currently, about 130,000 NATO troops are stationed in Afghanistan, 90,000 of them Americans.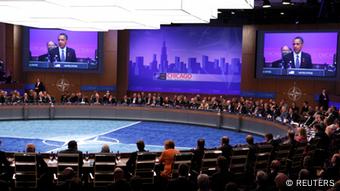 Barack Obama was the host of the summit


Financial commitments

Instead of troops, states engaged in Afghanistan are sending money. Although Chicago was not a pledging conference - that follows in Tokyo in July - there were still financial commitments. Around 1.3 billion dollars were supposed to be collected at the conference; Chancellor Merkel said that goal had nearly been reached. The Germans were not stingy: 150 million euros will flow into Afghanistan each year, beginning in 2015.

This allowed the chancellor to leave this summit satisfied. One thing that made it possible to interact extensively with her French counterpart was the NATO seating arrangement: It's in alphabetical order. And so Merkel was frequently seated next to Hollande. Her conclusion: "There is a continuity of good cooperation and that does not rule out different positions." She said she looked forward to their next meeting: the informal EU summit in Brussels on Wednesday. That will be the site of the next dispute with Hollande, who wants to speak about eurobonds. Merkel wholeheartedly rejects common European government bonds. But, she said: "I work in the spirit of finding reasonable solutions."
Author: Christina Bergmann / sgb
Editor: Jane McIntosh