At their autumn meeting on Tuesday (22.10.2013), the defense ministers of the 28 members of NATO discussed the future of their commitment to Afghanistan after the departure of NATO combat troops at the end of 2014. It's clear that, following its 13 years on the battle-field, the alliance will restrict itself to advising and training. Responsibility for security already lies with the 300,000 members of the Afghan police and army.
NATO Secretary-General Anders Fogh Rasmussen was confident that they would be able to keep the Taliban in check. "Afghan forces are now in the lead," he said, "showing courage, confidence and increasing capability."
But the situation is still very unstable, leading to the temporary closure of the German embassy in Kabul last weekend for fear of Islamist attacks.
Replacing NATO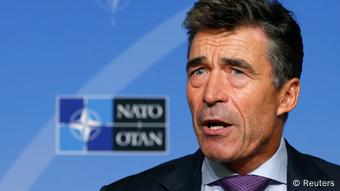 Rasmussen believes Afghan troops can control the country
Meanwhile, 30 non-governmental organizations working with the civilian Afghan population have written to the defense ministers via their association ENNA. It's director, Fabio Pompetti, is particularly concerned about the security of women in many parts of Afghanistan. Women who hold office are often the target of attacks, and make up only 1 percent of the police force.
In the letter, ENNA acknowledges that "major steps have been taken to build a professional Afghan National Security Force," but it says that's not enough. "It is essential for a peaceful and stable Afghanistan that this force is held accountable for its actions. NATO should ensure that the institutional reforms necessary for accountability, rule of law and justice are prioritised and enacted."
The defense ministers are unable to decide on the details of the post-combat deployment until a number of details have been clarified. US Secretary of State John Kerry and Afghan President Hamid Karsai only recently reached a bilateral agreement on the status and rights of US soldiers after the withdrawal. No details are officially available, but diplomats say that such agreements always include provisions for immunity for US troops from prosecution in local courts. The agreement will have to approved in mid-November by a Loya Jirga, a tribal assembly, in which Taliban representatives are likely to take part. "They are welcome," says the Loya Jirga's organizer, Sadek Modabir, in Kabul.
NATO needs a 'sofa'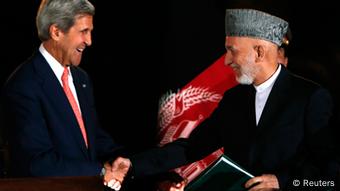 Kerry, left, and Karsai have reached agreement on future US deployment
Only once the US deal has been approved will the other NATO members start negotiating their agreement with the Afghan government. The Status of Forces Agreement, or SOFA, is the prerequisite for a UN mandate to be granted to the mission next year.
The defense ministers named no numbers at their meeting, but military sources said the mission would amount to some 8,000 to 12,000 troops, most of them from the US, compared to the 87,000 troops of the current ISAF operation.
The withdrawal of its combat troops is a major break for NATO. As Rasmussen said, it will be ending its longest and most extensive mission. From 2015 on, NATO plans to concentrate on the preparation of possible future deployments and on emergency operations.
That means that, while there may be fewer missions, there will still be a need to be operatiional throughout the world.
"A future NATO is a NATO that stays prepared for all eventualities," said Rasmussen, "and to ensure that we are prepared, we need to make sure that our forces can work and operate and communicate together."
The new NATO - slim and cheap?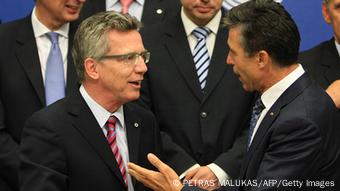 De Maizière's proposal for sharing capacity has been greeted by Rasmussen, right
The ministers also discussed the consolidation of military capabilities in order to save money and manpower. It was an idea which had been raised by the German defense minister, Thomas de Maizière, during the summer.
"I welcome that proposal," said Rasmussen. "It's yet another example as to how allies and partners can cooperate more closely with a view to acquiring and developing much needed military capabilities." The idea is that not every army has to do everything, and individual countries could specialize on tasks such as air transport, surveillance, medical treatment or drone deployment.
US Defense Secretary Chuck Hagel hopes that such projects will relieve his country, which contributes the most towards NATO operations, of some of its burden.
The alliance has already begun with 30 relatively small projects under the slogan "Smart Defense," but such capacity sharing could in future extend to entire troops or even armies. At the same time, NATO has to equip itself for new battlegrounds, such as cyber-warfare and missile defense.
NATO officials often speak of creating a new NATO, and a new NATO is needed as voters in NATO countries, especially in the US, are wearying of NATO commitments. Rasmussen insists the process of reform must continue: "We've undertaken additional measures to guarantee that our alliance deploys what is has efficiently."