Ayguel Oezkan has created waves before even taking office as social minister in the north-western German state of Lower Saxony.
The 38-year-old, who is a member of Chancellor Angela Merkel's conservative Christian Democratic Union (CDU), said in an interview on Saturday that crucifixes have as little place in state schools as do headscarves.
"Christian symbols do not belong in state schools," Oezkan told German weekly magazine Focus, adding that "schools should be neutral places where children can decide their religious orientation on their own. Just as head scarves do not belong in classrooms."
Comments spark criticism from conservatives
Oezkan's comments have ruffled feathers in her own conservative party.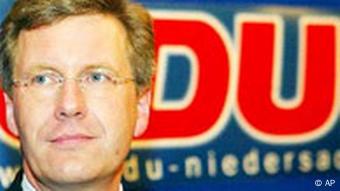 Wulff says the cross and the CDU are 'inseparable'
Lower Saxony state premier, Christian Wulff, distanced himself from the designated minister's remarks.
"Christian symbols, above all the crucifix in schools, are welcomed by the state government in Lower Saxony in keeping with the practice of tolerant education on the basis of Christian values," Wulff told news agency dpa.
He added that students wearing headscarves were also tolerated on grounds of religious freedom but not teachers.
"Ms Oezkan expressed her personal opinion on religious neutrality, but she's not questioning the practice in Lower Saxony."
But Stefan Mueller, CDU commissioner for integration, was openly critical.
"[Oezkan's remarks] are as absurd as they are appalling," Mueller said in a statement. "Politicians who want to ban the cross in state schools should think twice about whether representing a Christian party is the right choice. The crucifix is the foundation of our identity, culture, and values," he added.
Not just a 'token immigrant'
The 38-year-old Oezkan is the first Muslim woman in Germany to be elected to a ministerial post on the state level. She was born in Hamburg to Turkish immigrants.
A trained lawyer, Oezkan joined the CDU six years ago. Before her ministerial appointment, she was the party's economic policy spokeswoman for the regional parliamentary group in Hamburg.
Her appointment is widely seen as a coup for Merkel's conservative party who are keen to attract voters from Germany's large immigrant population.
Earlier this month, Christian Wulff called her appointment "a good signal for children and young people with immigrant backgrounds." Oezkan however quickly made clear that she does not want to be regarded as a "token immigrant."
Oezkan has said as social minister she will focus her efforts on furthering integration in Lower Saxony, something she says the ministry has lost sight of in recent years.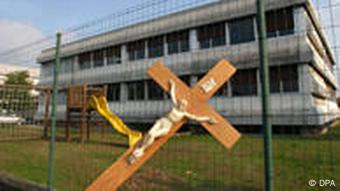 The state school crucifix ban in Germany is not a new debate
"I have made it clear that I intend to take over the area of integration. Up to now, integration has been more and more part of the interior ministry, but this is an area where I would like to make an impact," she told the Focus Magazine.
Oezkan has singled out the need for Germany to establish proper recognition of university degrees earned abroad.
"It can go on no longer that well-educated and able citizens are forced to drive taxis when they arrive in Germany," Oezkan said.
Oezkan has been given police protection in recent days. According to authorities, she has received letters and emails threatening that "something would happen" if she accepts her post, which is scheduled for Tuesday.
glb/AFP/dpa
Editor: Sonia Phalnikar