In Munich's central train station, where families and small groups of asylum applicants await trains to their next destinations in Germany, Obaida plays with his niece near a fruit juice shop as his mother leans against the bits and pieces of luggage they have managed to salvage from Syria. He has had his initial medical checkup and said he will soon leave for Sweden.
Saad, also from Syria, has managed to get a train ticket for himself, his wife and child to Hamburg. They leave tomorrow, he said. Until then, his family will have to pass the time in the station's halls unless aid workers find somewhere suitable for them.
At present, officials direct refugees arriving on trains from Hungary and Austria to a cordoned-off area in the Munich station. Here, they undergo a medical checkup and are given tickets to travel further within Germany or taken in buses to shelters around Munich. The city administration has managed to set up emergency beds in the city's trade fair building. Soldiers from the Bundeswehr are also setting up sleeping areas for thousands of people.
But prospects of finding a shelter are worsening. "Munich has reached its limit," Mayor Dieter Reiter told a press conference on Saturday, saying that his city was trying its best to manage the enormous influx of people.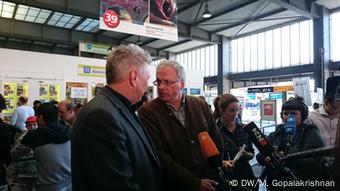 Hillenbrand (right) and Reiter (left) say the region's resources are spread thin
"We have had 3,600 refugees coming in by 10:30 this morning," Christoph Hillenbrand, district president of Upper Bavaria, told journalists. "This is the largest number of refugees we have had at this time of the day until now." He said that officials expected about 10,000 applicants for asylum to reach the southern German city on Saturday, but that there was allocated space for only half that many.
Hillenbrand said officials had no idea how they would create beds for the 5,000 people left without access to "buses, trains or any free space" on Saturday evening. The only hope can come from Bavaria's neighbors, who can use the state's example and take their share of the responsibility for accommodating applicants for asylum.
A 'national problem'
Strain is now slowly showing. Many in Munich say Germany must help those in need, but a feeling of fear has replaced the initial euphoria that marked the mood when trains full of migrants began arriving last week.
"I am shocked because so many refugees are coming," said a woman in her mid-50s who has been volunteering since last week. "But one must help," she added.
An ice cream seller agreed that "we should help people in need," but added: "Can't they go somewhere else now?"
Mayor Reiter said Munich was trying to solve a "national problem," and one that it cannot manage without help from other states. Hillenbrand said the first week of accepting refugees was logical, for humanitarian and ethical reasons, but so many people have arrived that the municipal government cannot solve the problem alone.