It is the year 2010 and the dictator Hosni Mubarak still has a firm grip on power in Egypt. Mohammed Morsi holds a leadership position in the Muslim Brotherhood. And he's not afraid to express his views on Israel loud and clear. He refers to the "Zionists" as "bloodsuckers and warmongers, and descendants of pigs and apes."
At that time, hardly anyone in the West knew of Mohammed Morsi. His comments went unnoticed. But now the Middle East Media Research Institute (MEMRI), located in Washington D.C., has dug up and translated several of Morsi's old interviews with Arabic television stations and posted them on the Internet.
"The language that we've seen is deeply offensive," said US State Department spokeswoman Victoria Nuland, adding that Morsi's "comments should be repudiated, and they should be repudiated firmly."
Avi Primor, the former Israeli ambassador to Germany, has labeled Morsi's statements as clearly anti-Semitic. But Morsi has defended himself, claiming that his old statements have been taken out of context. The Egyptian president said that he made those remarks in the context of Israel's policies in Gaza Strip.
Pragmatic politician
Since he assumed power in the summer of 2012, Morsi has sought to profile himself as a moderate, pragmatic politician. He is dependent on a good relationship with the United States. The US gives Egypt close to $1.3 billion (1 billion euros) in military aid every year. In return, Washington expects Cairo to maintain peaceful relations with Israel. But Morsi's old anti-Israel comments could engender distrust between western countries and Egypt's new political leadership.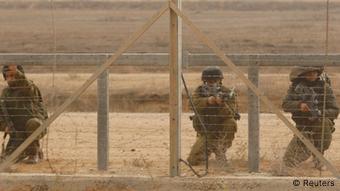 Morsi said his comments were made in the context of Israeli policies in Gaza
"They (Israelis) have to be driven out of our lands," Morsi said in one of the interviews in question. "Therefore, these negotiations must stop once and for all. Everybody must turn to the support of the resistance."
Morsi also rejected the planned two-state solution for Israelis and Palestinians in an interview with al-Quds TV, which is close to the Palestinian Islamist group Hamas.
"We want a country for the Palestinians on the entire land of Palestine on the basis of Palestinian citizenship," Morsi said. "All the talk about a two-state solution and about peace is nothing but an illusion, which the Arabs have been chasing for a long time now."
Views shared by Egyptians
Morsi's statements were "offensive" and almost an "incitement to ethnic hatred," but at their core they were "not astonishing," said Asiem El-Difraoui, a Middle East expert with the Berlin Institute for Media and Communications Policy.
"The views of the Egyptian people are extremely anti-Israeli," El-Difraoui told DW, adding that Morsi was repeating what many Egyptians think ."The peace created by the Camp David agreement is in reality a very cold peace."
According to El-Difraoui, Morsi's current comments are the ones that count," and he appears to have accepted Camp David." The Egyptian president has largely shown himself to be a pragmatist, El-Difraoui said.
Israeli response reserved
In Israel, the response to Morsi's statements has been reserved. The Israeli newspapers have published only the most important of the Egyptian president's remarks.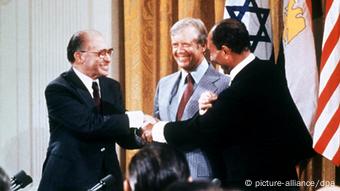 The Camp David peace is a cornerstone of Egypt's foreign policy
"The fundamentalists and the Islamists have always said such things - we've heard it all before," Primor told DW. The former ambassador to Germany went on to say that one has to differentiate between Morsi's ideology and his actions. During the recent Gaza War, for example, Morsi proved himself to be "very helpful and positive."
"Once you come to power, ideology plays only a small role," Primor said. "If Morsi wants to stay in power, he will have to do what is essential for Egypt. And the peace treaty with Israel is absolutely essential for Egypt. It is part of the Egyptian state's raison d'être and under the current circumstances, Morsi cannot afford a war."
Primor does not believe that Morsi represents a risk, but his comments do serve the purposes of the Israeli political right. At the beginning of next week, elections are to be held in Israel. And according to Primor, the right-wing "is emphasizing in their propaganda that we are in danger, that we have to defend ourselves - that the others want to annihilate us."
Perhaps it's not a coincidence then that MEMRI has decided to publish Morsi's comments now. The institute is controversial. The British newspaper "The Guardian" and other critics accuse MEMRI of close ties to the Israeli military and politically right-leaning research institutes in the United States.