The situations of the two sides on the eve of negotiations about Britain leaving the European Union could hardly have been more different. Whereas British Prime Minister Theresa May is barely clinging to power and her representatives are hastily insisting that London will indeed push forward with Brexit, German and EU leaders seem relaxed and confident.
In an interview with Die Welt newspaper, German Foreign Minister Sigmar Gabriel offered what was essentially an invitation for the UK to change its mind.
"It would naturally be best if Britain didn't leave at all," Gabriel said. "It doesn't look like that at the moment, but we want to keep the door open for the British."
Those sentiments were echoed in an interview with the same publication by Guy Verhofstadt, the European Parliament's chief Brexit negotiator. But he also hinted that even should there be a British change of heart, there would be no return to the current status quo.
"The path is open for the British to change their minds and become part of the European Union again," Verhofstadt told Welt. "But they'll find a different EU than the one they left, an EU with no special wishes, concessions and unnecessary complexity, but with more powers for Europe."
German and European leaders are taking care to strike a cordial, cooperative tone ahead the first formal Brexit negotiations in Brussels on Monday. But they clearly think they are playing with stronger a hand - in part because the British leadership under May has done so much to weaken its own.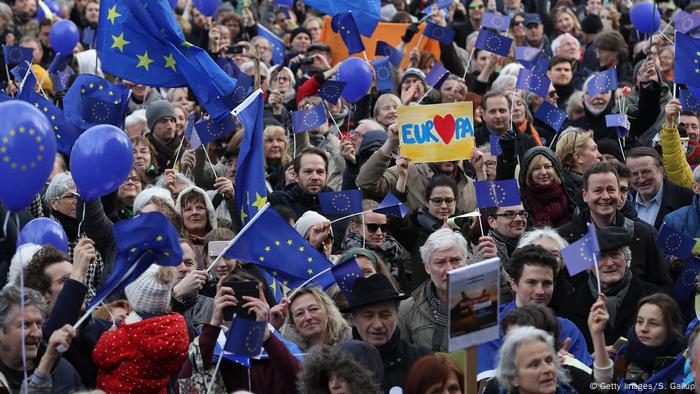 EU negotiators can bank on popular support
'Here, they'd be long gone'
Gabriel took undiplomatically direct aim at the Conservative government in London, saying that it had "played with the emotions of citizens in Britain, told fake news about Europe and left people unclear about what consequences this would all have."
And he was positively scornful about the attempt by May's Conservatives to exploit perceived weakness on the left in Britain and gain a mandate to push through Brexit.
"They bet on a snap election because they thought they could use tactical tricks to get a bigger majority," Gabriel said. "Now there is a difficult, even impossible situation without any clear majorities or negotiating strategy."
May was hoping to increase her support in the British election on June 8, but instead her party lost its outright majority and now has to try to form a workable government with a tiny party from Northern Ireland.
May's desperate attempts to retain power also drew a scathing dismissal from Germany's foreign minister.
"Here, people who created this sort of chaos would be long gone," Gabriel said.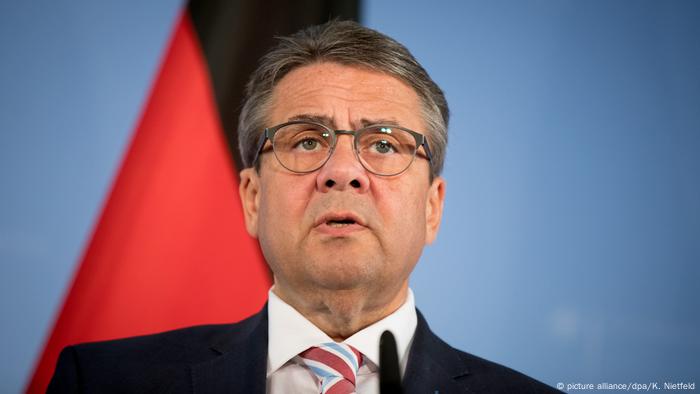 Gabriel slammed British Conservatives
Responsibilities and benefits of partnership
Both Gabriel and Verhofstadt said that they hoped May's election fiasco would encourage Britain to pursue a "soft Brexit" preserving as many ties with the EU as possible. But both leaders stressed that any future partnership with the EU would bring responsibilities as well as benefits.
Gabriel said it might be possible for the UK to stay in the European common market, but that to do so, London would have to abide by the principle of freedom of movement for EU workers. He added that Britain would have to accept the jurisdiction of either the European Court of Justice or a "joint court" of Europeans and Britons.
Verhofstadt said that British offers concerning the rights of EU citizens in the UK didn't go far enough. Britain's chief negotiator David Davies is set to offer to guarantee those rights as long as the people concerned resided in the UK before his country triggered the Brexit procedure. Verhofstadt said the EU wanted more than that.
"It's good that the British government is thinking about the rights of EU citizens in Great Britain," he told Welt. "But it's unsettling that Brexit Minister David Davis only wants to guarantee these rights for those who immigrated before March 29."
EU leaders clearly think that they can afford to take such firm lines because they enjoy greater support among the people they represent than their British counterparts. The European delegation in Brussels goes into the talks with voters in the bloc's two largest members, Germany and France, clearly backing the EU, while people in Britain appear split down the middle over the issue of whether to leave or not.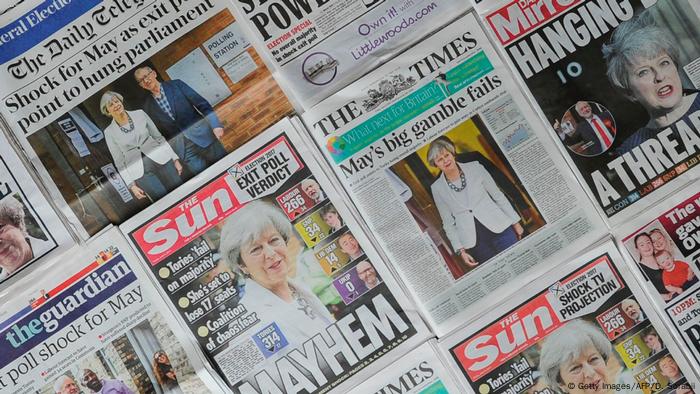 Many Germans see a funny side to May's travails
Another election in two years?
In Berlin on Sunday, ordinary Germans asked about Brexit and the impending talks were by turns bemused, confident and somewhat regretful and pitying of the British position.
"Theresa May made a complete mess of it in the snap election that just happened," Johannes Bader told Deutsche Welle. "It's total chaos."
Most people in the German regret the UK's decision to trigger the leaving mechanism and hope that the British will reconsider.
"It may very well be that in two years the British hold another election to decide whether they truly want Brexit after all," said Edgar Maas.
One man who wished to remain anonymous even saw the funny side in the impending talks.
"I love British humor, and with Brexit and the election you just have to laugh," he told DW. "They're making themselves look ridiculous. But I don't know whether the EU has the better cards or not. I'm sure everyone will be fighting tooth and nail."
The man looked very relaxed sitting and soaking up the sun with his back against a statue of the famous explorer, natural scientist and cosmopolitan Alexander von Humboldt. It was hard not to see him as emblematic of the European side as it prepared to negotiate with a British team still smarting from an electoral pounding.