India is one the world's biggest economies but of the estimated 247 million households in the country, only about 145 million have access to a bank account - something that PM Modi has vowed to change, calling a bank account for everyone a "national priority."
The National Mission on Financial Inclusion, or Jan Dhan Yojana in Hindi, launched on August 28, is a financial inclusion plan aimed at providing a bank account to every household in the country.
Every account holder will be offered a debit card, under the national domestic scheme, RuPay. Furthermore, after six months of satisfactory operations, account holders would also get an overdraft facility of up to 5,000 rupees.
The first goal of the plan is for some 75 million bank accounts to be opened until mid-January 2015. The government will be working with the country's banks to launch a "major campaign" to sign up new costumers.
Identification
"Indian banks will need to have major customer enrolment campaigns in rural India," said Rajiv Biswas, Asia-Pacific chief economist at IHS, a global consulting firm.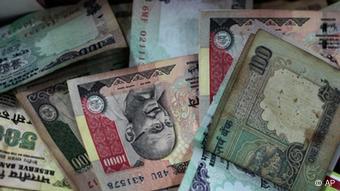 The scheme wants to bring some 145 million households in India onto the formal banking system
One of the main concerns is how identification requirements for opening accounts will be met in these villages where much of the population do not have key types of identification, he adds.
For Mark Williams, chief Asia economist at the London-based consultancy firm Capital Economics, this issue is the "key stumbling block" of the plan: "whether poorer Indians are able to prove their identity to the satisfaction of the banks."
"However there has already been a massive take-up of the new account initiative," says Biswas, adding that there are attractive incentives for new accounts opened, including free accident insurance of up to 100,000 Indian rupees (about 1,650 USD) and life insurance cover.
Better access
"If 40 percent of Indians are not a part of the economy, how can we be successful in eradicating poverty?" the PM said in his speech at the launch of the initiative. Indeed, around 65 percent of India's 1.2 billion people live in the country and the majority of rural residents still have no access to the formal banking system.
Modi said the main goal of the policy was to "to get rid of financial untouchability." Analysts agreed that the policy will indeed help the poor, reducing their exposure to "moneylenders who often charge extremely high interest rates for loans."
Biswas believes, this initiative will link a large segment of the unbanked population into the Indian financial system over the next three years. It helps them "get better access to bank credit and formal bank savings deposits," he told DW.
This will aid in boosting financial intermediation and should be a factor supporting the expansion of the Indian banking system and credit provision to rural India, says Biswas, which, in turn, "should help to boost economic growth of the nation's rural economy."
Direct payments
Even if the program doesn't reach its full potential, it will still help rev up economic growth, analysts say. The Modi administration announced that it will use the newly-created accounts to implement government welfare schemes - a major shift, since the World Bank says only three percent of all Indians receive any state payments through bank accounts.
Biswas says this measure will help "reduce the vulnerability of low income households" by providing them with a direct method of receiving welfare payments and other subsidies. Analysts believe that it will increase the efficiency of government poverty schemes, since "there should be fewer opportunities for funds to be siphoned off corruptly," says Williams. The move will probably also help streamline New Delhi's yearly distribution of 43 billion USD in subsidies for grains, fuel and fertilizer.
In addition, government funds can be targeted more effectively at those in greatest need, says Williams, something that will "boost consumer spending a little," since poorer families tend to spend a greater share of their income.
Bank cooperation
Prime Minister Modi sent an email to some 700,000 bankers in the country requesting their help before the announcement, asking them to "try your level best to ensure that no one is left without a bank account."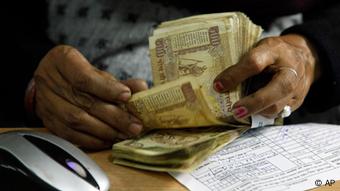 Biswas says this measure will help "reduce the vulnerability of low income households" by offering them a direct method of receiving welfare payments
Economist Williams says that the banks' cooperation is the other "key issue" to the success of the program. "The proposal to give every account holder an overdraft facility could end up being costly for banks, which would struggle to recoup bad debts. If the scheme is to reach its full potential, there will also be a cost in terms of the need to expand bank branches - or, at a minimum, ATM machines into poorer areas," he adds.
But experts are of the view that the scheme also provides opportunities. Giving low income, rural households access to the Indian formal banking system will encourage them to park their savings in banks, rather than using gold bullion, jewellery and various informal investment schemes, Biswas explained.
The analyst says that there will probably be a "tremendous national effort" to meet the target of 75 million new accounts by January 2015. "The Indian government has announced that 15 million account applications were received on the first day the scheme was launched, so the initiative has got off to a flying start."