Children are running around the playground, some are playing cards with their teachers, others are doing physical exercise. This looks a lot like a regular kindergarten, but it isn't. The kids are all from migrant families and the classroom is on wheels, a "mobile kindergarten," or MoKi, that travels around Gelsenkirchen offering childcare and education.
Established by the city council, MoKi sends social workers in two caravans outfitted as kindergartens to neighborhoods with high proportions of Bulgarian and Romanian migrants. When the caravans park and open their doors the children take off running, as if they had been eagerly awaiting their arrival. Each caravan is equipped with colored pencils, paper and picture books and can accommodate 25 to 30 children.
Project coordinator Yvonne Bakenecker and her team of five do their best to make the children's day, especially since they only stay at each location for a few hours at a time. The MoKis go to different parts of the city on weekdays, usually visiting two different neighborhoods each day.
Multilingual playground
This afternoon, a girl and a boy are playing with cards. She hands him one and then promptly complains that he didn't thank her. "Danke schön," the boy says, to which the girl responds "bitte schön." Such small conversations in German are a gateway to integration.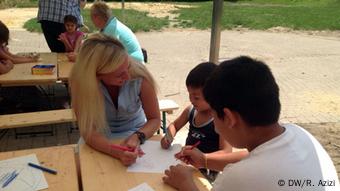 Kids get a chance to play and learn a bit of German at the mobile centers
"The pedagogical goal is to teach the children German through simple words and short sentences," explains Kerstin Kutz, an educator and part of the MoKi staff.
Although initially tailored to Romanian and Bulgarian kids in response to an influx of people from those countries last year, the MoKis have become a playground for refugee children from Syria and Iraq as well. Two members of Bakenecker's team speak Romanian, and another speaks Turkish, Arabic and Kurdish. Sometimes those children who have already learned a bit of German also help to translate for their parents.
Backup for desperate parents
Parents like four-year-old Sebastian's mother Loredana, from Romania, are pleased with the set up. "My son always asks me if he can go to MoKi when the caravans are there," she says. "He tells me what he has done, like singing a German song or doing handicraft work. Last time he gave me what he had created at MoKi."
Displaced from their home countries, these families are poor, mostly illiterate, and in need of help in order to become part of German society. Parents sometimes turn to the MoKis for help when they don't know where else to go, Bakenecker says.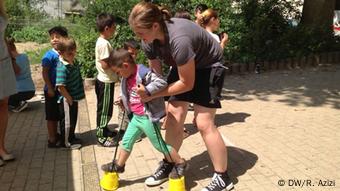 The children learn to be more aware of their bodies and practice coordination
The team also faces specific challenges in their work. Some of the children, especially those from Syria, have been traumatized by their experiences of war back home, Bakenecker explains. They may get scared when they see a toy plane, or scream and hide when real planes fly overhead.
Ultimately, the MoKis are meant to function as a bridge to regular day care centers. "The goal is that parents take the time to understand German child-care regulations before they go on with more structured institutions," says Holle Weiß, the head of Gekita, which developed the project for the Gelsenkirchen city council.
And the project appears to have achieved some success: 10 children who started out in the MoKis began going to regular kindergartens this August.