Mexico's President Enrique Pena Nieto has considered scrapping a meeting with US President Donald Trump scheduled for January 31, local media reported. However, Mexico's foreign minister confirmed that the meeting would take place.
In a brief statement, Nieto criticized Trump's executive order on the construction of a wall on the US-Mexico border.
"I regret and condemn the decision of the United States to continue construction of a wall that, for years, has divided us instead of uniting us," Nieto said. "Mexico does not believe in walls. I have said it time and again: Mexico will not pay for any wall."
Trump's executive order to build a wall on the border has been met with fury in the world's largest Spanish-speaking country.
"The position is very clear," said Ricardo Anaya Cortes, who serves as the president of the opposition party National Action.
"Either one cancels the meeting with Donald Trump, or one attends it to say publicly and with absolute firmness that Mexico rejects the wall and we will not pay a single cent for it," he added.
Nieto has witnessed his approval ratings drop to historic lows since he met with Trump in August before his electoral victory and failed to publicly condemn the wall at a joint press conference.
US to 'pay for it'
US House speaker Paul Ryan told American broadcaster "MSNBC" that Washington will front the bill for the wall at first after Trump last year vowed to have Mexico pay for it.
"There are a lot of different ways of getting Mexico to contribute to doing this, and there are different ways of defining how exactly they pay for it," Ryan said, noting that the US is "going to pay for it and front the money up."
He confirmed that the price of constructing the wall is between $8 billion (7.4 billions euros) and $14 billion (13 billion euros).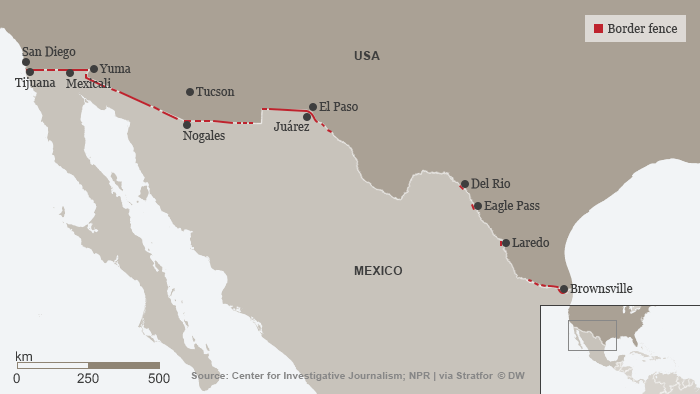 Meanwhile, leftist opposition leader Andres Manuel Lopez Obrador told a crowd of supporters near Mexico City that the government should explore legal mechanisms to block the construction of the wall.
"I respectfully suggest that the government of Mexico presents a lawsuit at the United Nations against the US government for violation of human rights and racial discrimination," Obrador said.
ls/rc (AP, Reuters)