Violence started after a protester drove his truck into police guarding a fuel distribution terminal in Baja California. Federal police said four officers had been injured in the incident in Rosarito, near the border city of Tijuana.
Mexico's government hiked gasoline costs by 14 to 20 percent earlier this month, adding to already-rising inflation. The hike is part of a gradual price liberalization the Pena Nieto administration has promised to implement this year.
Local media reported marches on Saturday in the Mexican states of Sonora, Chiapas, Guerrero, Jalisco, Tabasco and Puebla as well.
Thousands of people marched in the western city of Guadalajara on Saturday to protest the increases. There were no reports of violence in Mexico City on Saturday.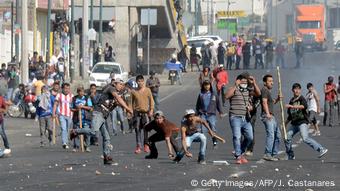 "No to the gasoline price hike, Pena out," protesters yelled as they marched from Mexico City's center to the Presidential residence.
Heroica Veracruz Governor Miguel Angel Yunes Linares said 532 people had been detained in his state alone and that rumors of further looting had caused "an artificial psychosis."
The Interior Department reported a total of more than 1,500 people detained for looting or disturbances nationwide since protests began early in the week. National Retailers Association of Mexico (ANTAD) said on Friday that 423 stores had been sacked, nearly half in the central state of Mexico, near the capital.
jbh/kl (AP, Reuters)