"We hope [to do it] in January or February," National Security Commissioner Renato Sales Heredia told TV network Televisa on Friday.
It is Mexico's clearest estimate to date of when it plans to send the imprisoned Sinaloa cartel chief across the border. Guzman is now imprisoned in Ciudad Juarez, a city bordering Texas.
"He can have his own personal opinion. I think it will be very difficult for it to happen between now and January," Guzman's lawyer Jose Refugio Rodriguez said, telling Televisa that his client has instructed him to "fight to the end" and that he can win the case if it "is not handled politically."
The Mexican foreign ministry approved Guzman's extradition in May and President Enrique Pena Nieto pledged to extradite him, but he has filed court injunctions, which have delayed the process. A judge began reviewing the case on September 26.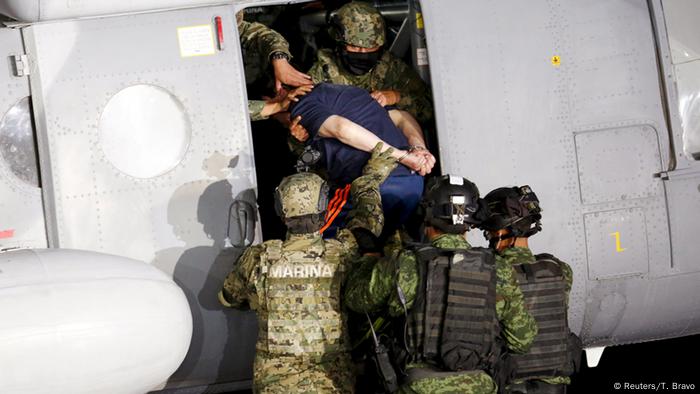 Joaquin Guzman Loera - El Chapo being taken to Mexico City earlier this year
Guzman is facing two extradition bids, one in California for drug distribution and another in Texas on charges including murder and money laundering.
His attorneys are also exploring possible cooperation with US prosecutors - which is believed to be unnerving to other traffickers, government officials and politicians.
With Guzman in prison since January, his cartel has faced attacks from rivals. Members of the Jalisco New Generation drug cartel, which is battling Guzman's gang for supremacy in Mexico, briefly kidnapped his son Jesus Alfredo in August, according to US and Mexican officials.
Guzman's extradition would set up a major trial in the United States for the head of a cartel accused of providing tons of drugs to the US while fueling violence in Mexico.
Guzman was captured in February 2014 after 13 years on the run, but he escaped a year later from a maximum-security prison near Mexico City through a 1.5-kilometer (one-mile) tunnel, humiliating President Enrique Pena Nieto. After he was recaptured in January in Sinaloa, Pena Nieto demanded his speedy extradition.
jbh/bw (AFP, Reuters, dpa)