US President Donald Trump's decision to deploy National Guard troops at the southern border was slammed by Mexican politicians on Thursday as a populist ploy and an unjustified lack of respect.
Mexico's right- and left-wing lawmakers put aside their differences in condemning Trump's border policy, including President Enrique Pena Nieto and the two leading candidates in the country's July presidential race.
Read more: Cards Against Humanity takes on Trump's border wall
The White House on Tuesday said it was seeking to mobilize the National Guard to the Mexican border in an effort to curb illegal immigration and combat drug crime, both of which it claimed remained at "unacceptable" levels. On Wednesday, Trump said he intended to move up to 4,000 troops to the border.
Nieto said the deployment of National Guard troops reflected "threatening attitudes and a lack of respect" from the White House, adding that the US president was jeopardizing the countries' relationship to score points with his base.
"If your recent statements are caused by your frustration over internal political matters, your laws or your Congress, take it up with them, not the Mexican people," the Mexican President said in a national address. "We are not going to allow negative rhetoric to define our actions."
Nieto's remarks were echoed by Andres Manuel Lopez Obrador, the leftist front-runner in Mexico's upcoming presidential vote, who said the deployment of US troops at the border was a political ploy based on misinformation. "He's using all this campaign against Mexico as propaganda, that is the only way I can explain that he's trying to send military forces to the border," Obrador said during a campaign rally on Thursday in the northern border city of Nuevo Laredo.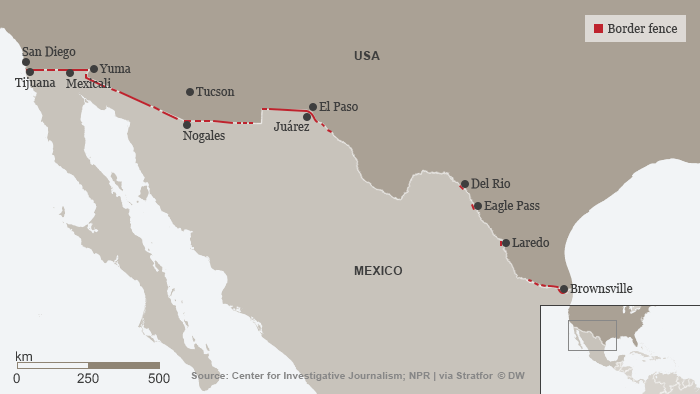 Cooperation on ice
Following Trump's National Guard order, Mexico's Senate passed a resolution on Wednesday calling on the government to retaliate by suspending joint efforts with the US to tackle illegal immigration and drug trafficking.
Ricardo Anaya, the second-place presidential candidate who heads a right-left coalition, went further, calling on the government to halt all joint anti-terrorism efforts until US troops withdrew from the shared border.
Read more: The war on drugs: Pena Nieto's Herculean task
"You cannot negotiate or cooperate with threats," Anaya said. "We must make it clear to President Trump that Mexico and the United States can continue to have a profitable relationship, of mutual benefit, or move into a confrontational relationship, where we all lose."
More border troops
Trump on Thursday said he intended to send up thousands of National Guard troops to the US-Mexico border to help local officials fight drug trafficking and illegal immigration. Troops are not intended to be involved in enforcement, however.
The President said that "we'll probably keep them or a large portion of them until the wall is built," referring to his promised wall along the US' southern border. Political roadblocks concerning the wall's funding, however, indicate that troops could remain stationed at the Mexico border for a significant amount of time.
Secretary Kirstjen Nielsen of the Department of Homeland Security said on Wednesday that the situation along the border had reached "a crisis point" and that the White House was forced to act.
Figures show that the arrests along the Mexico border jumped to 50,308 in March — a 37 percent increase from February and more than triple the same period last year. The rate of arrests along the southern border has risen during 10 of the last 11 months.
dm/bw (AP, AFP, Reuters)
Each evening at 1830 UTC, DW's editors send out a selection of the day's hard news and quality feature journalism. You can sign up to receive it directly here.