With Germany shorn of its biggest name for this World Cup, star quality will have to come from a player who is actually top class - but isn't the most recognized.
At 70kg (154 lbs.), Mesut Oezil is not the heavyweight presence to replace Michael Ballack as Germany's midfield general or media magnet, but he certainly has the skills to bring excitement and creativity to Die Mannschaft's 2010 campaign.
The Gelsenkirchen-born attacking midfielder with Turkish heritage has been among the most consistent flair players on the Germany roster in the past couple of years as he has grown into his fledgling role as the team's creative spark.
Germany's World Cup qualifying campaign had already wound down by the time Oezil really began making his mark in the Bundesliga with Werder Bremen, so the World Cup will be Oezil's international coming out party for many a spectator.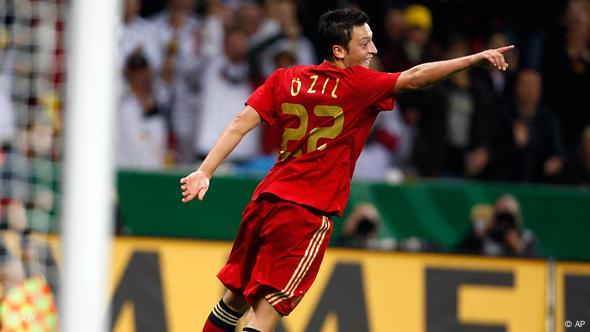 Oezil's creative spark and incisive vision should be harnessed to make Germany an attacking threat
Versatile weapon
A player of intelligence as well as speed, Oezil is a proficient dribbler, a canny passer and a proven midfield goal-scorer. In the last two seasons with Bremen he's racked up 12 goals and a gaudy 29 assists.
Just how effective he is as a box-to-box midfielder remains to be seen - and with Germany without enforcers such as Ballack, Thorsten Frings and Thomas Hitzlsperger, the livewire Oezil may be required to track back more than he's used to.
But considering he is a player (albeit a very young, inexperienced one in comparison) in the mold of Kaka or Zinedine Zidane, Loew may want to exploit Oezil's great ball skills, his attacking mentality and vision in Germany's offensive play while leaving the heavy lifting to other midfielders.
Germany is still best-known for playing organized, efficient and maybe even a little boring soccer. But Mesut Oezil's potentially electrifying play at the World Cup could yet re-make Germany's image.
Author: Nick Amies
Editor: Matt Hermann