The Premier League stars, who were joined by a third player, Everton striker Cenk Tosun, met with Turkish President Recep Tayyip Erdogan at London's Four Seasons hotel on Sunday. President Erdogan, who is up for re-election on June 24, is in the British capital for a three-day state visit, where he is to be received by Queen Elizabeth II and meet with Prime Minister Theresa May on Tuesday.
Each player presented Erdogan with a football jersey from his respective club, before posing for a picture with the president. Gündogan's Manchester City shirt was also inscribed with the personal message: "With great respect for my president."
While the added sentiment attached to Gündogan's shirt is significant, Özil's presence seems particularly surprising. He told the German national daily Süddeutschen Zeitung, in a 2017 interview, that he generally refrains from commenting on political matters. "I don't speak about politics," he said at the time. It emerged on Tuesday that Liverpool midfielder Emre Can had also been invited to meet Erdogan, but declined.
The German internationals were criticized on Monday by Reinhard Grindel, president of the German football association (DFB).
"Of course the DFB respects the special situation of players from migrant backgrounds," he said. "But football and the DFB stand for values that are not sufficiently respected by Mr. Erdogan. It's not good that our players are letting themselves be exploited for the good of his (election) campaign. The actions of these players have not helped the integration efforts of the DFB."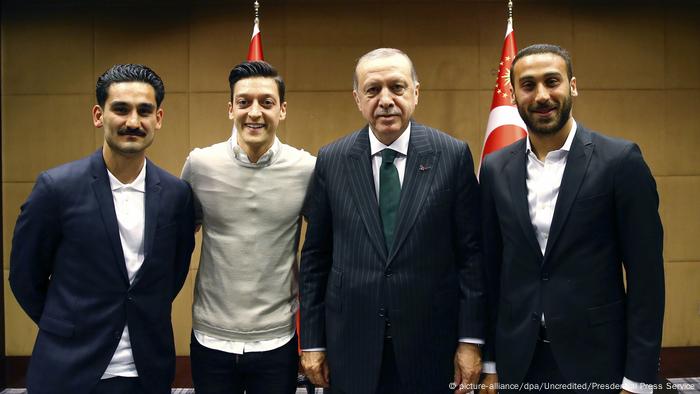 Ilkay Gündogan, Mesut Özil, Racep Tayyip Erdogan and Cenk Tosun meet at London's Four Seasons Hotel on Sunday.
After the news broke, some took to Twitter to voice their disapproval of the meeting. In the four years since Erdogan became president, Turkey has frequently come under fire for alleged human rights violations, as well as crackdowns on the press and social media. During that time, more journalists have been jailed under his regime than in any other country, and the former longtime prime minister has launched a widespread purge of the public sector since a failed coup attempt in 2016. Many German media outlets have been particularly critical of Erdogan's regime.
Following the backlash, Gündogan released the following statement: "It was not our intention to make a political statement with our photo, and even less so to campaign for his election. As Germany internationals, we are committed to the values of the DFB and are aware of our responsibilities."
Although both were born in the western Germany city of Gelsenkirchen and chose to represent Germany internationally, Özil and Gündogan are of Turkish heritage. Everton striker Tosun was also born in Germany, but he chose to play for Turkey.
The timing is far from ideal, given that German national team coach Jogi Löw is set to announce his preliminary squad for the upcoming World Cup on Tuesday. Both Özil and Gündogan are expected to make the squad, although, as a result of Sunday's meeting, some fans have called for their exclusion.
Reaction on Twitter: