On Saturday, fourth-term Chancellor Merkel acknowledged frustration within her own Christian Democrat (CDU) party and especially within its Women's Union (Frauen Union), saying its shrunken female representation was far from a "success story."
Women currently make up 26 percent of members within the CDU. Last September's federal election saw the female tally among Merkel's conservatives in the Bundestag slashed from one quarter down to one fifth.
Read more: Lower percentage of women in Bundestag
Restoring Germany's post-war popular parties — Merkel's CDU and Bavarian CSU conservative bloc and the center-left Social Democrats (SPD) — to past levels approaching 40 percent hinged on women, the chancellor insisted.
"That's why this is not just a question of women who want to make a career, but it is a survival matter for this Volkspartei," Merkel said, using the German vernacular for the CDU/CSU and SPD - among six parties now sharing Bundestag benches.
Overall in September, they gleaned only 32.9 percent and 20.5 percent respectively as the far-right Alternative for Germany entered the Bundestag alongside the Greens, the liberal Free Democrats (FDP) and the communist-origin Left party.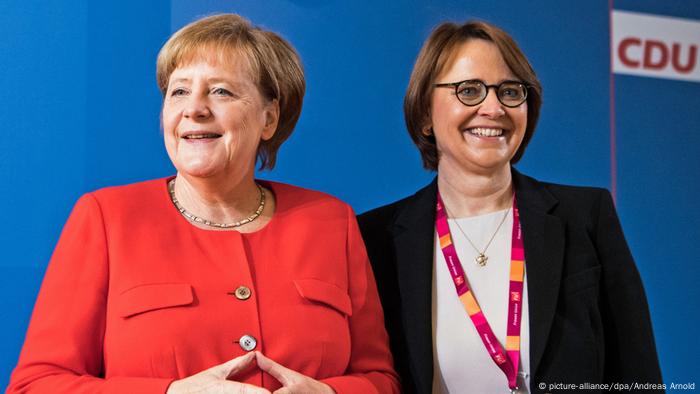 Merkel with Women's Union head Widmann-Mauz
Men outmaneuver women
Despite a 1996 CDU rule to reserve a third of all party "list" candidacies for women, that quorum was "no longer sufficient for us," Merkel told the Women's Union anniversary gathering at a Frankfurt monastery.
CDU men typically won direct, electoral mandates instead of entering parliament via candidacy lists under Germany's proportional system, whereby each voter picks a local candidate and exercises a second vote on competing lists of candidates submitted by parties.
The Women's Union led by Annette Widmann-Mauz in a resolution Saturday demanded that half of such lists be allocated to women — "placed evenly across the top, the middle and rear of lists."
Declines also at Landtag assemblies
Some of Germany's 16 regional Landtag assemblies had fewer women lawmakers than 20 years ago, said Widmann-Mauz, who is also a states secretary for migration and integration issues within Merkel's chancellery.
Germany's new Bundestag: Who is who in parliament?
Merkel, 63, the first woman ever to become German chancellor, earlier this year encouraged her CDU to elect a female party general secretary, Annegret Kramp-Karrenbauer, previously the premier of Saarland.
The CDU's Women's Union or Frauen Union, founded on May 1, 1948 in Frankfurt, currently has about 110,000 members.
ipj/bw, (dpa, Reuters)