At a party conference in the western German city of Saarlouis, the chancellor said right-wing groups such as the anti-Islamization PEGIDA should not have any right to choose who would get to enjoy the benefit of belonging to Germany and who would be excluded from this privilege.
Distancing herself from PEGIDA followers without mentioning the name of the contentious movement in her speech, Merkel said: "All of us, we all are the people," referring to her opponents on the right who use the slogan "We Are the People."
PEGIDA has a strong following in eastern Germany. The slogan originated in protests across former East Germany in 1989 that swept away the communist regime.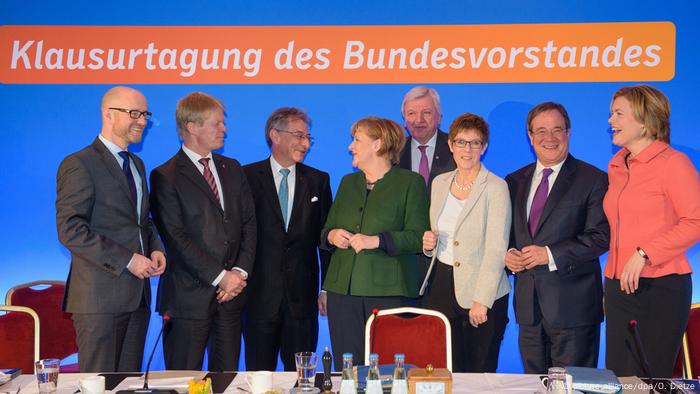 Despite growing right-wing sympathies, Merkel's CDU party is leading in polls with 37 percent of the vote
Merkel the orator
Merkel also dusted off a historic political slogan - this time from the early days of postwar West Germany, stressing that "Prosperity for All" would be her campaign focus as Germany prepares to hold general elections later in the year.
In the 1950s, West Germany's first postwar economy minister, Ludwig Erhard, used the slogan to set the stage for a series of economic reforms. These led to what became known as the country's economic miracle.
"We want as many people as possible in Germany to have the possibility of a job with fair pay," Merkel said, adding that she also wanted companies to operate under conditions that would facilitate investing in Germany "and not somewhere else."
Not in touch
In her speech, the chancellor said human rights - such as freedom of speech, religion and expression - should never be taken for granted. Merkel said that these values weren't "gifts you don't have to work for."
Merkel added that, from time to time, people have to show initiative and prove that they will stand up for freedom if needed.
Her announcement, however, may have rung hollow with many voters, who say their main worry is to possible economic stagnation, dwelling on the negative impact that globalization could have on them.
ss/kl (dpa)