In a potential blow to British Prime Minister David Cameron's migration reform plans, German Chancellor Angela Merkel has said she will not support restrictions on the freedom of movement of workers in the European Union.
"Germany will not tamper with the fundamental principles of free movement in the EU," Britain's Sunday Times quoted Merkel as saying.
Cameron, seeking to address voter concerns about immigration, is considering a move to cap the number of low-skilled migrants seeking work in the United Kingdom. The move could also potentially blunt the growth of the United Kingdom Independence Party (UKIP) which seeks to dramatically cut immigration to Britain.
But Merkel said she would not support such a plan, which would require a major overhaul of EU rules.
"These are controversial issues that are debated also in our country," Merkel said. "I am of the opinion that they need to be resolved in a way that tackles abuse."
"On the other hand, we must not interfere with the fundamental principles of free movement in Europe," Merkel said.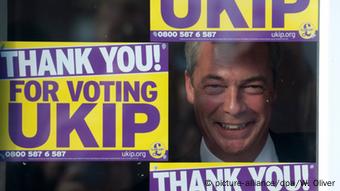 The euroskeptic UKIP has made gains by advocating greatly reduced immigration levels
Cameron's proposal has also met with backlash from other EU leaders. "The principle of freedom of movement is essential, we have to keep it," European Commission President Jose Manuel Barroso said.
Long a top immigrant destination in the EU, net migration to the United Kingdom is around 250,000. Cameron pledged during his 2010 election campaign to reduce this number to below 100,000.
Highlighting the recent tension between Britain and the EU, the comments from the German Chancellor come after Prime Minister Cameron furiously refused to pay a surprise 2.1 billion euro ($2.66 billion) bill in backdated charges levied on the UK by Brussels.
"We are not suddenly going to take out our chequebook and write a cheque for two billion euros, it is not happening," Cameron said.
bw/jm (Reuters)