At a joint cabinet meeting of the Israeli and German governments, German Chancellor Angela Merkel backed calls for tougher sanctions on Iran and stressed the historic importance of cooperation between Berlin and Tel Aviv.
"I believe that, in the framework of the historic responsibility we bear for Israel's existence and future, it is eminently important that we continue to work on developing cooperation in the entire range of our bilateral ties," Merkel said.
Israeli Prime Minister Benjamin Netanyahu was met by Merkel at the chancellery and around 10 ministers from each side held talks throughout the day.
Netanyahu also visited the Memorial to the Murdered Jews of Europe next to Berlin's Brandenburg Gate.
"It is a very moving moment for me, not merely because of what we experienced in the chancellery but also what we experienced (....) in the heart of Berlin, where we attended the Holocaust memorial in the center of the capital of Germany," Netanyahu said.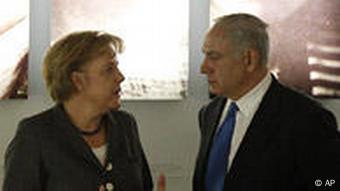 Netanyahu said the visit to the Holocaust memorial was "a historic moment"
"To come back here 65 years after the Holocaust as the Prime Minister of Israel and the head of a ministerial delegation of the independent Jewish state is a historic moment."
Iran sanctions top the agenda
The joint cabinet session touched on a broad range of issues ranging from security to development and environmental projects, yet it was the growing concern over Iran's nuclear programme that dominated the talks.
Israeli Prime Minister Netanyahu called for immediate "crippling sanctions" to be imposed on Tehran.
"If not now, when?" Netanyahu asked at the press conference after the talks. "A regime that oppresses its people cannot be allowed to have nuclear weapons."
"We have repeatedly made the offer to Iran of transparent cooperation. Unfortunately it has not been taken up," the German chancellor added.
"We have made it clear that if the reaction of Iran does not change, we will cooperate in the preparation of wide-ranging sanctions … preferably within the framework of a UN Security Council resolution," Merkel said.
The joint cabinet meeting also discussed the stalled peace efforts in the Middle East. Angela Merkel called for greater commitment from Tel Aviv to halt the building of Jewish settlements in the occupied territories.
Monday's session in Berlin was the second German-Israeli cabinet meeting. The first such meeting was held in Jerusalem in 2008, 43 years after the two nations established diplomatic ties.
ai/dpa/AP
Editor: Susan Houlton