The German chancellor on Friday welcomed the decision by the European Central Bank (ECB) to buy unlimited sovereign bonds of eurozone crisis states, saying that the bank had attached important political conditions to the move.
"The ECB made clear yesterday…that the future of the euro will to a large extent be determined by political action and that the conditionality is a very important aspect," said Merkel after talks with Austrian Chancellor Werner Faymann in Vienna.
"Responsibility and checks, or help and checks and conditions, always go hand in hand," she told reporters at the joint news conference.
Unlimited bond buying
On Thursday, the ECB had presented a plan to potentially buy unlimited amounts of short-term sovereign debt from troubled eurozone countries, in a bid to help close their budget deficits and reduce their borrowing rates.
But the states potentially in question - Ireland, Italy, Portugal, Greece and Spain - would have to meet certain conditions in order to receive the financing. They would have to be under a bailout program and would have to submit to austerity measures.
German Finance Minister Wolfgang Schäuble responded to charges that the ECB had overstepped its mandate to keep inflation under control by regulating monetary policy.
"It's not the beginning of monetary financing of sovereign debt," Schäuble told reporters in Stockholm on Friday, where he was attending a seminar on economic growth.
"The ECB is responsible for monetary policy, and the mandate of the ECB is clearly limited to monetary policy," Schäuble added. "And the decision that the ECB takes is in the framework of monetary policy, nothing else. It's fine. They know very well what they have to do."
Opposition in Germany
But members of Chancellor Merkel's center-right coalition, German central bankers and the country's press have voiced opposition to the ECB plan.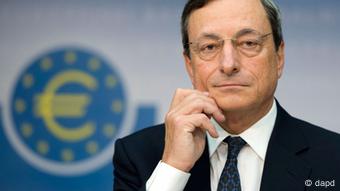 There's high-level opposition in Germany toward ECB chief Mario Draghi's bond buying program
German central bank chief Jens Weidmann, who sits on the ECB's governing council, voted against the plan, saying it was "tantamount to financing governments by printing banknotes. Monetary policy risks being subjugated to fiscal policy."
Some German lawmakers even threatened legal action, arguing that the ECB had violated its mandate.
"We should consider making legal checks on whether the ECB has hugely overstepped its mandate. I am convinced that this is the case" Klaus-Peter Willsch, a leading euroskeptic member or Merkel's Christian Democratic Union (CDU), told German public radio.
"As the largest creditor nation in the whole game, Germany should have a right of veto," he added.
And Frank Schäffler, a member of Merkel's junior coalition partners the Free Democrats, said that Germany should file a lawsuit with the European Court of Justice.
"The ECB is now becoming a 'bad bank' for all of the junk credit in Europe," Schäffler said in an interview with German public radio. "What happened yesterday could have historic dimensions…They are trying to dump these bonds with the tax payer picking up the tab."
slk/kms (AFP, Reuters, dpa)