New German Chancellor Angela Merkel called on Wednesday for closer ties with the United States during a visit to NATO headquarters in Brussels as part of her first trip abroad as leader.
"I believe the ties between the US and Germany can be developed further," she said after talks with NATO Secretary General Jaap de Hoop Scheffer.
Relations between Germany and the United States were badly soured by the staunch opposition of Merkel's predecessor, Gerhard Schröder, to the US-led war in Iraq.
No changes in German-NATO policy
Germany's stance on Iraq is a policy that Merkel said would not change with her at the government's reins, and that Germany would not be involved in NATO's training of Iraqi military officers inside Iraq.
"We made clear that we will continue not to take part in training inside Iraq, but that we will continue to conduct training in neighboring countries," she said. "There will be continuity with the previous policy."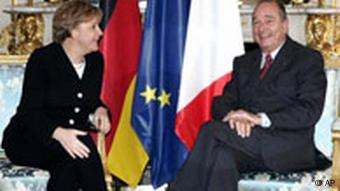 Merkel was off to Brussels after meeting with Chirac
Merkel added that the military alliance should be a key forum for improving transatlantic ties.
"NATO should be, I believe, the place where people turn first, where member states turn first, to discuss political issues of common concern," she told reporters. "First and foremost we should try to pursue the approach that NATO is the place for such discussions. I believe that
is very necessary ... only that way can we see to it that NATO continues to be a political alliance."
Earlier in the day Merkel had traveled to Paris, where she agreed with French President Jacques Chirac on the importance of keeping Franco-German relations strong.
Chirac greeted Merkel at the Elysee Palace with a discreet kiss on the hand before they posed for photographs, smiling broadly and exchanging a few words.
Stressing EU ties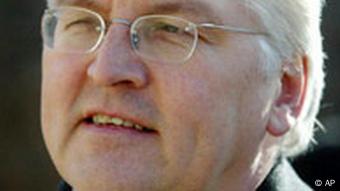 Steinmeier is the coalition's new foreign minister
Merkel, accompanied by new German Foreign Minister Frank-Walter Steinmeier, had lunch with Chirac. In a follow-up press conference, Chirac said a "truly strong" Franco-German partnership was essential for Europe. The two countries are united in their wish for "a political and social Europe" and "a truly strong Franco-German axis" is necessary for the 25-member European Union, Chirac said.
Formally named chancellor Tuesday, Merkel's choice of Paris as her first foreign destination is seen as a fresh affirmation of the strength of the Franco-German relationship at the heart of the European Union. Thursday she will fly to London where Prime Minister Tony Blair will try to reach a compromise with Merkel on the EU budget, which she has already refused to increase.
Protocol problems?
The conservative head of a rare left-right German coalition, Merkel was formally named chancellor by the German parliament on Tuesday. As the country's youngest and first female leader, her election ushers in a new era of delicate decisions when it comes to diplomatic protocol.
Take Chirac's gallant hand-kiss -- a greeting he never gave Merkel's predecessor, Gerhard Schröder. And then there's the question of whether Merkel would wear a head scarf if she were to visit certain Middle Eastern countries; the rules of diplomacy dictate that the visiting party conform to the customs of the host.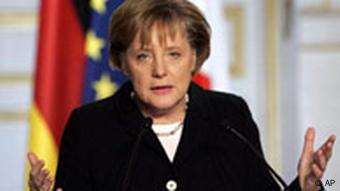 Some wonder if Merkel will wear a head scarf on other state visits
The main objective, of course, is to avoid embarrassment. A recent visit by an Iranian statesman in Brussels could serve as a warning to Merkel's protocol officers: Iranian Parliament President Gholam Ali Haddad-Adel refused to shake the hand of Belgium's Senate President Anne-Marie Lizin, because she is a woman.
Should Merkel receive a state visit from Iran, her team would do well to iron out such potentially embarrassing details beforehand.
At least one point of protocol has been clarified: The correct title for Germany's female head of government is Madame Chancellor.