The media has changed drastically over the past few years, particularly in light of the rapidly changing field of communications technology.
"I came to take part in the conference because I'd like to use my mobile phone as a conflict prevention tool," Peris Warimu said.
Wariumu had traveled from Kenya to Bonn for this year's Global Media Forum, which opened on Wednesday, June 3, with around 1,000 participants.
Forms of new media are playing an increasingly important role, said Deutsche Welle Director General Erik Bettermann in his opening address.
"The result is, that we can now get first-hand information from presumably isolated regions," he said.
Responsible journalism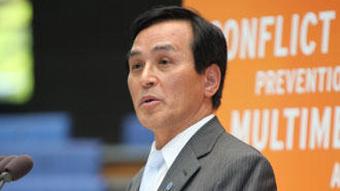 Choi said sharing reliable information can save lives
Deutsche Welle sees itself as the German advocate for human rights - an area that is often particularly neglected in conflict situations. In this context, Bettermann appealed to journalists to do more than just report.
"It's more and more important that the media not just fulfil their obligation as chroniclers by delivering well-researched stories," he said. "They should also encourage awareness of how to resolve conflicts."
Providing the right information at the right time is also crucial in conflict situations -- particularly for the United Nations, said UN Assistant Secretary General Choi Soon-hong.
"Whether it is during a natural disaster, such as a tsunami in Thailand, the current urgent need to help the internally displaced people in Sri Lanka, or the evacuation of people in the southern part of Democratic Republic of Congo due to a potential catastrophic volcanic eruption," said Choi, "in such a scenario, having access to timely, reliable information will save lives."
Communication is key
Howard Rheingold, professor at Stanford University in California, rounded off the Global Media Forum's opening ceremony with a fundamental point: In short, we communicate, therefore we are human.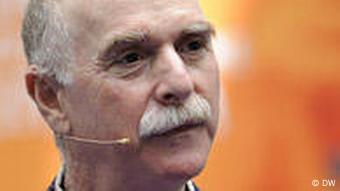 Rheingold: to communicate is to be human
"The human history of civilization is really a history of co-evolution of the technologies we create, the communication media we sometimes make out of those technologies, and the ways we do things together," said Rheingold. "In fact, I think that there's a strong argument to be made that we are human because we use communications to organize activities together."
And new media, from text messages and mobile phones to social networks like Facebook or Twitter, play an important role in that organization.
"The threshold for collective action has been dramatically lowered because of the capacity to send messages to one another via the telephone," Rheingold added.
The Internet expert cited the fall of the Philippine President Joseph Estrada in early 2001 as an example. Demonstrators organized rallies via text message on a scale that hadn't been seen before that time. Perhaps Peris Warimu from Kenya will be the next to use her mobile phone to spark political change.
Author: Matthias von Hein / Kate Bowen
Editor: Sonia Phalnikar