The children of Martin Luther King Jr. condemned US President Donald Trump's alleged comments about Haiti and African countries, as thousands of Americans honored the late civil rights leader on Monday by protesting against the president.
Tensions were high near Trump's Mar-a-Lago retreat in Florida, where there were clashes between Haitian-Americans and Trump supporters.
The events follow the president's alleged remarks during a meeting with senators on immigration last week, during which issues including Temporary Protected Status (TPS) for immigrants from certain countries were discussed. The president reportedly referred to some countries that receive TPS, primarily African nations and Haiti, as "s***hole countries."
Read more: Donald Trump should apologize for remarks: African states
Trump reportedly also scoffed at the notion of allowing more Haitian migrants to enter the US and questioned why the US couldn't receive more immigrants from countries like Norway instead.
Trump denied the expletive rant, but admitted that the language he used during the meeting on immigration was "tough."
The King family response
Responding to the reports on Monday, King's eldest son, Martin Luther King III, denounced the president, saying: "When a president insists that our nation needs more citizens from white states like Norway, I don't think we need to spend any time even talking about what it says and what it is."
He added, "We got to find a way to work on this man's heart."
Martin Luther King III on Donald Trump: "We got to find a way to work on this man's heart"
King's daughter, the Reverend Bernice King, told the hundreds of people packed inside the Ebenezer Baptist Church in Atlanta that they "cannot allow the nations of the world to embrace the words that come from our president as a reflection of the true spirit of America."
She added: "We are one people, one nation, one blood, one destiny. ... All of civilization and humanity originated from the soils of Africa."
Read more: Norwegians decline President Donald Trump's offer to move to US
Protests break out on Mar-a-Lago's doorstep
Angry clashes broke out on Monday between Haitian groups and Trump supporters, just down the road from the president's Mar-a-Lago retreat. Footage captured by local broadcaster WPEC-TV showed several dozen pro-Haitian protesters waving Haitian flags and chanting "Our country is not a s***hole."
Across the street, the smaller pro-Trump contingent waved US flags and Trump campaign posters. One man could also be seen yelling at Haitians to "go back to their s***holes."
No violent unrest was reported.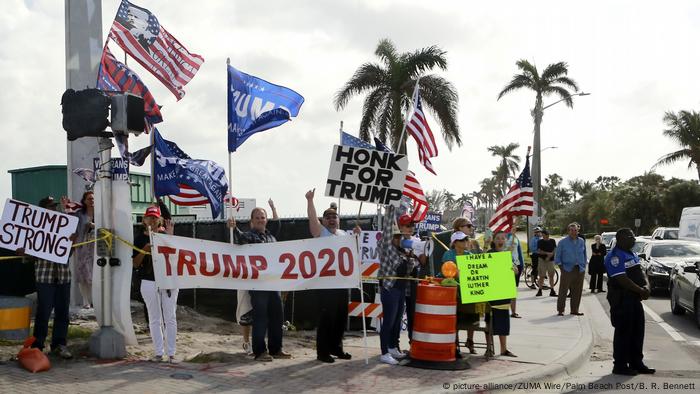 One Trump supporter was filmed telling Haitian protestors to "go back to their s***holes"
Trump keeps low profile on MLK day
The president, meanwhile, decamped to his Florida retreat to keep a low profile over the federal holiday marking the birthday of the iconic civil rights leader.
Trump did dedicate his weekly address to the nation, released on Monday, to King. "Dr. King's dream is our dream, it is the American dream, it's the promise stitched into the fabric of our nation, etched into the hearts of our people and written into the soul of humankind," Trump said in the address, which was also tweeted out to his followers.
His tribute to the civil rights leader, however, did little to calm the firestorm over his comments. Earlier on Sunday, the president was forced to deny he was racist, telling reporters, "I am the least racist person you have ever interviewed."