Thousands of people in Australia and New Zealand on Saturday kicked off the March for Science, the first of more than 500 marches around the globe in support of science.
The March for Science rallies come in response to growing worries over an assault on evidence-based facts and concern that funding for science and research will be cut. The organizers want to highlight the role that science plays in informing political policies and promoting the public interest.
More than ten thousand people turned out in several cities in Australia, carrying signs reading "Alternative splicing, not alternative facts," and "Science, the best bullshit repellent we have."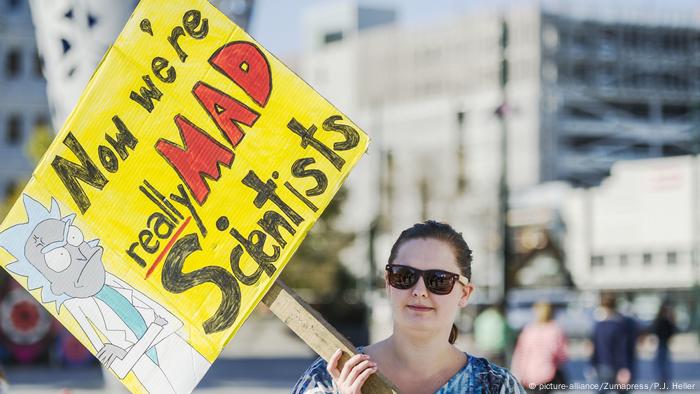 A protester in Christchurch, New Zealand, joined hundreds of others across the country
Another said: "What do we want? Science-based policy. When do we want it? After peer review."
While the organizers say they are nonpartisan, they admit that US President Donald Trump has catalyzed supporters of science at a time of "alternative facts."
At the center of concern is denial of climate change and the Trump administration's plans to cut funding for the Environmental Protection Agency and research and science. Trump has called climate change a hoax and threatened to withdraw the US from the Paris Agreement to curb greenhouse gas emissions.
"The march has generated a great deal of conversation around whether or not scientists should involve themselves in politics," the organizers said in a statement on the website www.marchforscience.com. "In the face of an alarming trend toward discrediting scientific consensus and restricting scientific discovery, we might ask instead: can we afford not to speak out in its defense?"
The main march is scheduled in Washington, DC, with more than 500 satellite marches planned across the United States, Europe, Asia, South America and Africa.
In Germany, 19 marches are planned, including in Berlin, Bonn, Cologne, Frankfurt, Munich and the tiny North Sea island of Helgoland.
cw/rc (AFP, dpa)