Despite lower prices for exported oil, Malaysia's growth surprisingly picked up in the fourth quarter, with growth coming in at 5.8 percent year-on-year compared with 5.6 percent the quarter before. "Private consumption registered a stronger growth of 7.8 percent, supported by stable labor market conditions and continued wage growth," Bank Negara Malaysia, the country's central bank said in a statement. Full-year growth for 2014 came in at 6.0 percent, up from 4.7 percent in 2013. Looking ahead, however, lower oil prices may become a major headwind for the Southeast Asian nation.
In a DW interview, Asia economist Krystal Tan says that while most economies in "Emerging Asia" will benefit from the fall in oil prices, Malaysia will be key exception given its status as a big net energy exporter.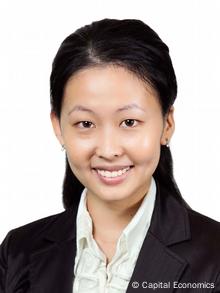 Krystal Tan: 'Lower oil prices will be a major challenge for the economy'
DW: Why was growth stronger than expected?
Krystal Tan: Growth in the fourth quarter was lifted by the strength of private consumption and investment. The pick-up in private consumption may partly reflect front-loading in consumer spending ahead of the introduction of the Goods and Services Tax (GST) in April, but a drop back will be inevitable once the tax kicks in.
What are the main sectors driving economic growth?
In terms of sectors, mining and services showed stronger growth in Q4. The tourism sector weathered several setbacks in 2014 well, with arrivals in January-October expanding by 9.6 percent y/y, up from 2.7 percent in 2013. ASEAN countries played a key role here, with visitors from Indonesia, Thailand, Philippines and Vietnam all recording double-digit growth rates during this period.
What are the main challenges in the coming months?
Lower oil prices will be a major challenge for the economy. Energy-related revenues account for about 30 percent of total government revenues and they are set to take a hit this year, so the government will have to cut back on its spending to prevent its fiscal deficit from ballooning.
Retail sales will likely struggle after the GST is introduced in April. High household debt burdens will also weigh on consumer spending.
What can the government do to help keep growth at this level?
It will be difficult for the government to maintain growth at six percent given the various headwinds the economy faces. The main bright spots for the economy will be non-commodity exports that could benefit from stronger growth prospects in the US and the sharp depreciation of the ringgit, as well as tourism.
Overall, we think GDP growth will slow to around 5.0 percent this year and 4.5 percent in 2016, reflecting fiscal consolidation, soft commodity prices and slower credit growth.
Krystal Tan Asia is Asian economist at Capital Economics, a UK-based economic research consultancy.