Authorities commenced construction at the Gevgelija crossing between Macedonia and Greece on Friday. The new metal fence is set to run parallel to a pre-existing barricade, which the Macedonian government erected in November.
"The idea is to send a message to migrants that there is a double fence, so give up crossing illegally," a senior army official told the AFP news agency.
According to the local media, the new fortification will be 5 meters (16.5 feet) behind the old one, and run 37 kilometers (23 miles).
Escaping the war
Macedonia started reinforcing the border in November, after officials changed the entry criteria for approved refugees. Under the current regulation, only the immigrants from Iraq, Afghanistan and Syria are allowed to cross into the Balkan country.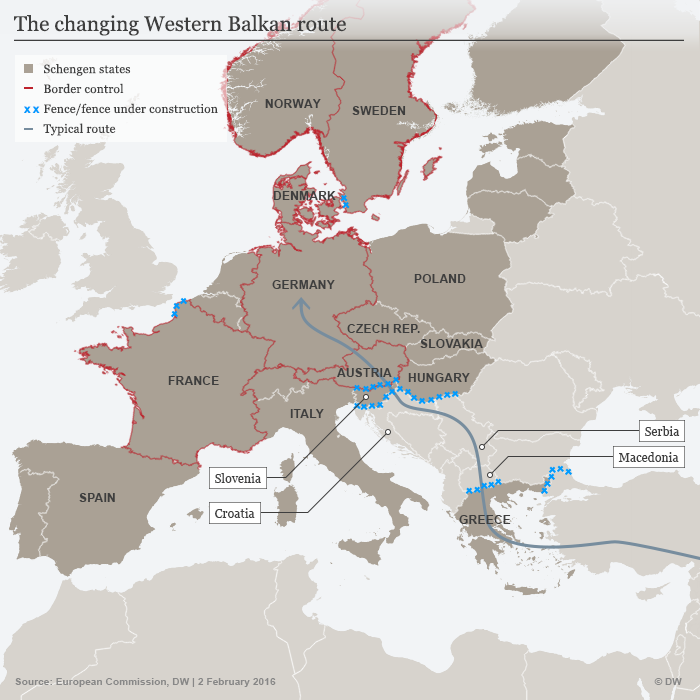 The improved security, however, failed to deter thousands of people from other countries from trying to enter Macedonia and continue their journey to the European Union. The police stopped 4,000 attempts of illegal border crossing in January alone.
A 'defense line'
On Thursday, Austrian Foreign Minister Sebastian Kurz arrived in Sarajevo for the first leg of his official Balkan tour. He is expected to discuss the idea of sending an EU police and military mission to secure the border between Greece and Macedonia.
Kurz and other EU officials had pressed Greece to secure the outside border of the nominally passport-free Schengen Area.
"I still don't have the feeling that it has dawned on Greece how serious the situation is," Kurz said last Wednesday.
On that same day, Macedonia's Interior Ministry registered more than 2,800 refugees headed to Germany and Austria. One-third of them were children.
"I say this very clearly," Kurz said. "If we do not manage to control the situation ... our only option will be to cooperate with Slovenia, Croatia, Serbia, Macedonia."
Hungarian Prime Minister Viktor Orban called for a "European defense line" on Greece's border with Turkey, and Polish Prime Minister Beata Szydlo urged more security on the external EU frontier.
dj/jil (dpa, AFP, AP, MIA)