The last of a set of naked statues of Donald Trump is to be sold to the highest bidder, Julien's Auctions announced on Tuesday.
The stand-up sculpture of the US president, entitled "The Emperor Has No Balls," is expected to fetch up to $30,000 (€24,200), the California-based auction house said in a statement.
Read more: One year as president: Donald Trump as cover boy
The clay-and-silicone statue is part of a series of unflattering depictions of a nude Trump with a pot belly set up by activist artist collective Indecline in public spaces in New York, San Francisco, Seattle, Cleveland and Los Angeles weeks before the presidential election in 2016.
It is the last remaining of the life-size sculpture series of Trump in the buff, as the others were vandalized or destroyed. A previous, near-identical statue was sold for around $22,000 in October 2016.
The statue will be auctioned off in the gallery's first street and urban art auction, alongside works from Banksy, Andy Warhol and Jean Michel Basquiat, in New Jersey on May 2.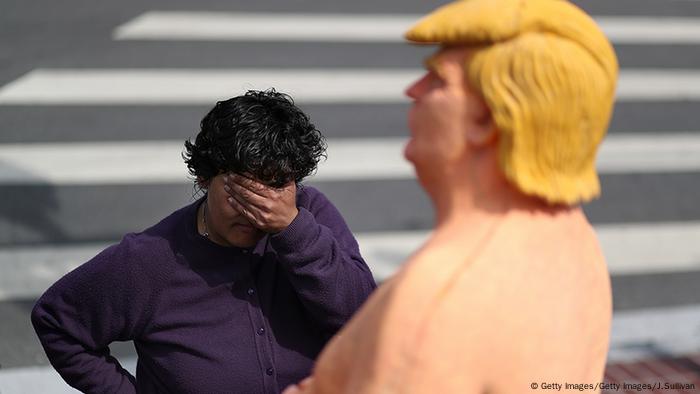 A passerby looks at a statue depicting Donald Trump in 2016 in San Francisco
In 2016, the Washington Post reported a spokesperson from Indecline saying that the figures were inspired by Hans Christian Andersen's folktale, "The Emperor's New Clothes," about a leader whose inflated confidence leads to his public embarassment.
Indecline is a collective of writers, filmmakers, photographers and "full-time rebels and activists," the group's website says. The group focuses on "social, ecological and economical injustices carried out by American and international governments, corporations and law enforcement agencies." The collective has been linked to previous actions, including covering the stars on the Hollywood Walk of Fame with the names of African Americans who had been killed by police and making a large piece of illegal graffiti in California's Mojave desert that stated: "This Land Was Our Land."
Read more: Martha Rosler: 'The struggles of our time are against the toxic masculinity of men in power'
sh/cmb (dpa, ap)