Libyan authorities have recovered the remains of 21 Coptic Christians who were beheaded by so-called "Islamic State" (IS) militants more than two years ago, the anti-IS organization al-Bonyan al-Marsous announced Saturday .
The gruesome discovery was made in the seaside city of Sirte — the home town of former dictator Moammar Gadhafi, who was toppled in 2011.
A statement said officials were led to the site by an IS militant who had witnessed the attack in early 2015.
The witness, who was under arrest, gave authorities details about the mass execution and identified the militants involved.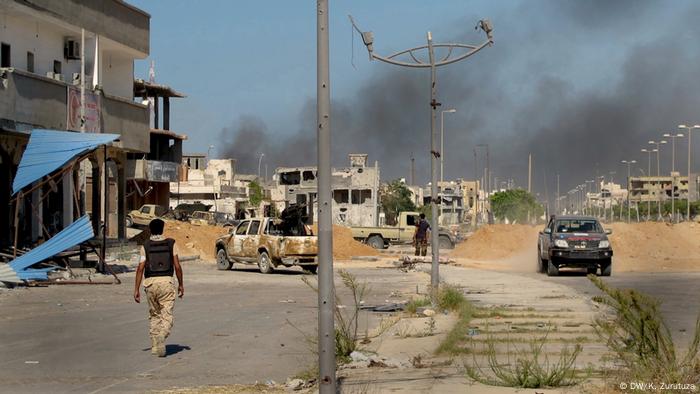 A cloud of black smoke rises on the Sirte horizon during the 2016 battle for the city
Found with hands cuffed
The beheaded bodies were found with their hands cuffed behind their backs. Twenty of the victims were from Egypt and one was of an unknown African nationality.
The remains were being moved to Libya's western city of Misrata for forensic examinations, according to a statement from the state's Combat Crime Department.
IS militants released a video in February 2015 claiming to show the beheadings of the men, who were expatriate workers from Egypt's minority Christian sect.
Egypt responded to the news of the mass execution by launching airstrikes against suspected militant positions in Libya.
Libya's UN-backed government regained control of Sirte last December.
Libya descended into anarchy after Gadhafi was overthrown. The IS jihadis seized on the anarchy to carve out a niche for themselves in the oil-rich country.
bik/cmb (AP, dpa)