A Libyan military spokesman, Faisal al-Zwei, spokesman for the 101st Brigade, confirmed that hundreds of forces loyal to Haftar had seized the oil facilitiies at Ras Lanuf (photo) and al-Sidra from Islamist-allied militias.
Haftar is allied with Libya's parliament, based in the east of the country, and is at odds with the UN-backed government in the capital, Tripoli.
Faisal al-Zwei said that the assault had started early Tuesday and that the fighting was still ongoing, adding that 1,300 forces loyal to Haftar were taking part in the fighting.
Fighting over oil
In September, pro-Haftar forces captured Ras Lanuf, al-Sidra and two other eastern oil ports in a blow to the authority of the UN-backed Government of National Accord (GNA).
The GNA denied having any connection with the takeover of the oil facilities earlier this month. But the eastern parliament last week suspended its participation in political dialogue after what it called "the terrorist attack on the oil crescent."
Haftar and GNA head Fayez al-Sarraj agreed in February to form a committee to explore amending the UN-backed deal that gave rise to the unity government.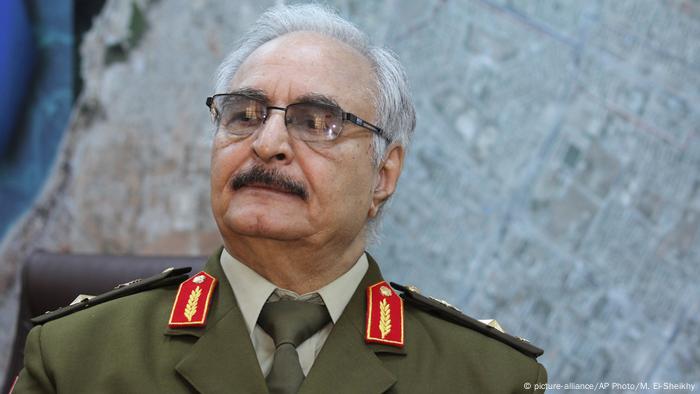 Khalifa Haftar in 2015
Russian influence?
Haftar has refused to cede power to the GNA. He has been cultivated as an ally by Russia and reportedly made several visits to Moscow. His forces have fought jihadists in the country's second city Benghazi for over two years.
The country's eastern government has requested Russia's help in training troops, a prominent opposition politician said in comments carried by Russian state media on Tuesday.
"Most of our officers trained in Russia, and many can speak Russian and know how to use Russian equipment," Aguila Saleh Issa, speaker of the opposition government's parliament in the eastern city of Tobruk, told Russian state news agency RIA Novosti.
Russia's Defense Ministry denied reports that it had sent troops to the Egyptian town of Sidi Barrani, near Libya's eastern border, as part of an effort to support the opposition government.
Libya has experienced lawlessness since the 2011 NATO-backed ouster of longtime dictator Moammar Gadhafi, with rival parliaments and governments fighting over territory and the country's large oil wealth. Oil accounts for more than 95 percent of Libya's revenues.
jbh/jm (Reuters, AFP, AP, dpa)