Lewis Hamilton delivered a quick lap when it mattered most, securing his 75th career pole position at the Circuit Paul Ricard near Paris.
"It feels great to be back in France, we've got a great response from the crowd here," Hamilton said after the session. "Really excited to be back for the first grand prix at Paul Ricard in a long, long time."
It's been 10 years since the last French Grand Prix, and almost 30 years since the last race at the Circuit Paul Ricard.
Hamilton's lap was barely a tenth of a second quicker than teammate Valtteri Bottas, who briefly looked likely to claim pole position.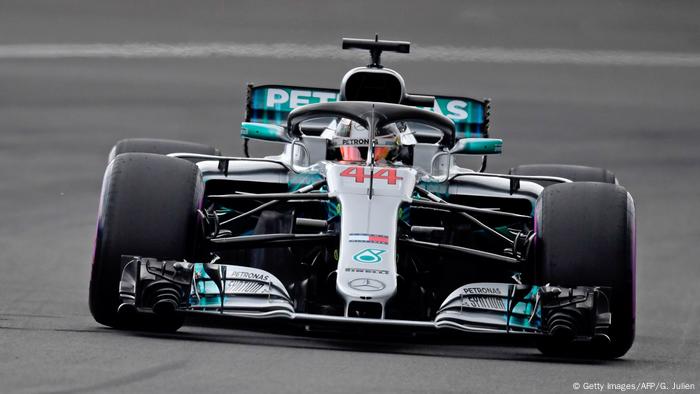 The two Mercedes traded hot laps in the closing seconds of the session
After difficult races in Monaco and Canada for Mercedes, the front row lockout will surely be a relief for the Anglo-German outfit. The team's non-executive chairman Niki Lauda told British broadcaster Sky Sports after the race that Mercedes were "back on track" with Saturday's showing.
Slippery conditions late on
The track was slippery in the final session of qualifying after a few drops of rain fell early on. This prompted Romain Grosjean to crash his Haas, and made the final hunt for pole position more complicated. Sebastian Vettel missed his chance at the front row when he ran a little wide into turn 3 on his last flying lap.
"It's a difficult one to get the right balance, I tried hard to give everything in the last attempt, and looking back, I pushed too hard," Vettel said after the session. "In the end, P3, I'm happy, because the car should be good in the race."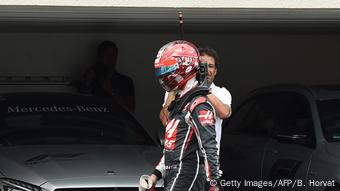 Romain Grosjean's accident after some light drizzle delayed the final qualifying session
Behind Vettel, the Red Bulls of Max Verstappen and Daniel Ricciardo couldn't quite match the pace of Mercedes and Ferrari; they will start fourth and fifth.
Kimi Raikkonen, meanwhile, made mistakes in his final flying lap, meaning he will only start in sixth for Sunday's race.
F1's rising French star Charles Leclerc put in an impressive qualifying performance in front of his home crowd, securing eighth on the grid in his Sauber.
It was a more difficult day for the second German driver on the grid, Nico Hülkenberg, who could only manage 13th place in his Renault.