A British potter who made a satirical Brexit mug with holes in the side has turned down a potentially lucrative business opportunity to produce thousands more of the beakers.
The novelty mug, which went viral on social media, has the word BREXIT cut through one side, which stops it being able to hold liquid.
Lee Cartledge of Bentham Pottery, based near the UK's Lake District national park, told DW he was taken aback at the response to an image of the half-finished mug posted to his company's Facebook page last week.
The funny side of Brexit
"I had no idea it would take off," he said after the beaker was shared thousands of times on social media in the same week as Britain and the European Union announced a deal on the country's withdrawal from the bloc.
Read more: Threatening Brexit 'veto,' Spain demands written commitment from UK on Gibraltar
Priced at 80 pounds each (€90, $102), the mugs sold out in three hours. Even so, Cartledge has no intention of turning the novelty mug into a business. Despite receiving "hundreds and hundreds" of inquiries from people who want to buy it, he decided to make it a limited edition souvenir.
"They're a nightmare to make, but I'll do a hundred and donate the proceeds to charity," he said. Ten percent of the revenue from the mugs will go to the UK's Motor Neurone Disease Association (MNDA).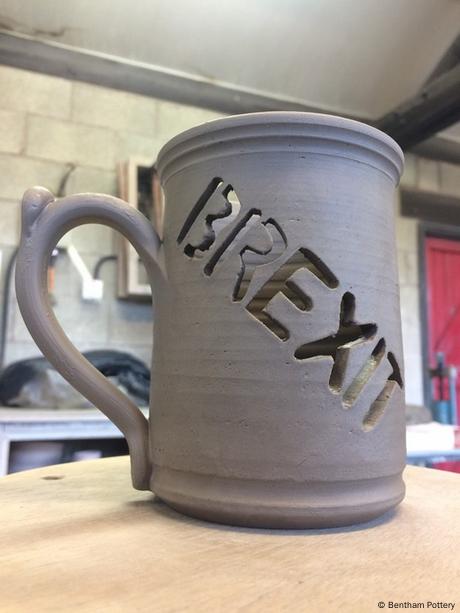 The 52-year-old, whose pottery business primarily serves the tourist industry in northwest England, was stunned with the apparent ease that orders for the Brexit mug arrived.
"I've never sold anything based on a photograph of an unfinished mug. No one asked about glazes or colors, and yet I've sold them all," he told DW.
Read more: No-deal Brexit fears on minds of German manufacturers
What next: A Jacob Rees mug?
He even had a request for a Jacob Rees mug — a reference to the controversial British politician who was one of the leading figures in the 2016 referendum campaign for Britain to leave the EU.
Due to high demand for his other pottery products in the lead-up to Christmas, Cartledge thinks he'll only be able to finish the entire batch of Brexit mugs after the holiday season.
Two other potters based in northern England have agreed to make more, and will also be donating part of their proceeds to charity.
Cartledge, who is on the 'Remain' side of the Brexit debate, thinks the mug is funny whether you're for or against Brexit.
"I don't think the people who voted 'Leave' are happy with the fudged deal, and those that voted 'Remain' are just as unhappy with the outcome," he said.
The 52-year-old believes that while business had been good for the past five or six years, "it's the uncertainty ... we don't know what's going to happen after March 29."