Bells tolling in the background were the only noise heard during the somber ceremony at Dachau, with leaders and officials joining more than 130 survivors and US liberators to mark the 70th anniversary of the camp's prisoners being freed.
German Chancellor Angela Merkel used the opportunity to thank those in attendance for recounting the terrible events that happened there.
"It is very fortunate that people like you are willing to tell your life stories, about the unending suffering that Germany inflicted on you during the era of National Socialism," she said.
Merkel also cautioned against forgetting the meaning and origins of places such as Dachau, saying anti-Semitic "attacks and hate speech are aimed against human dignity, and thus also at the basic order of a free society."
Echoing this, the president of the Dachau Camp Community, Max Mannheimer, said people needed to learn from history's darkest events.
"From commemoration there must also emerge a consciousness of responsibility," he said.
Also speaking was Josef Schuster, president of the Central Council of Jews in Germany.
He worried he was seeing an increase in discriminatory attitudes in today's society.
"When I see today how some people stir up hatred against refugees or talk derogatorily about Jews, I ask myself: how well anchored in people's heads is the great good of human dignity?" he said.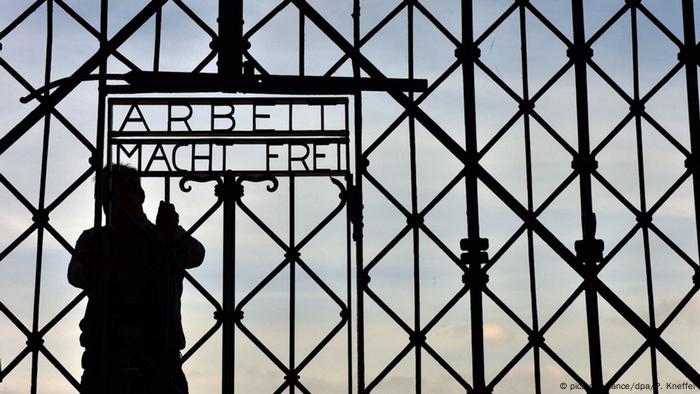 A reconstruction of the camp's bitterly cynical "Arbeit macht frei" grate (Work makes you free) is now on site after the original was stolen
Dark history
The camp was originally opened by the Nazis as a site for political prisoners in March 1933.
However the site's population grew to include Jews, Roma, homosexuals and people with disabilities.
Of the more than 200,000 people imprisoned at Dachau and its subcamps, more than 41,000 died.
It was also where many medical experiments took place, with former camp prisoner Clement Quentin describing to news agency AFP in a recent interview how he was infected with tuberculosis by the camp's doctors.
"We were no longer normal human beings - we weren't yet animals, but only just," the 94-year-old said.
On April 29, 1945 American army trucks arrived in the town of Dachau, northwest of Munich.
One of the soldiers who helped free prisoners at the camp, Alan Lukens, said he was shocked at seeing the condition of the survivors when they arrived.
He said it was a reminder "that good can overcome evil."
'We won't forget'
Since January, similar commemorations have taken place at other former campsites, marking seven decades since the end of World War II.
Merkel became the first German chancellor to visit Dachau back in 2013, but was criticized for following the visit with a beer-tent rally for her supporters.
Merkel finished her speech to the crowd with the assurance that Dachau's role in World War II wouldn't fade from history.
"We'll not forget for the sake of the victims, for our own sake, and for the sake of future generations," she said.
an/gsw (AFP, dpa, AP, EPD)