After hundreds of demonstrators broke into the luxury hotel hosting the meeting in the Thai seaside resort of Pattaya a state of emergency was declared.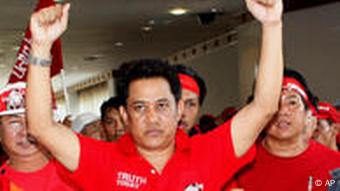 Protest leader Arisman Pongreungrong may be feeling less victorious after his arrest on Sunday
The arrest of Arisman Pongruengrong follows Prime Minister Abhisit Vejjajiva's promise to take legal action against supporters of former Primer Minister Thaksin Shinawatra. In a weekly televised address to the nation Abhisit described the protesters as "enemies of Thailand" and vowed that he would bring order and peace back to the fragmented country.
Ahead of the summit, the Thai government had made assurances that it would take whatever measures necessary to prevent such a situation. Officials have now acknowledged that security forces had failed to do just that.
Ongoing uncertainty
Thaksin's supporters, known as the "red shirts," were regrouping outside of the prime minister's office in Bangkok. They are demanding Abhisit's resignation and new elections just four months after taking office. Abhisit was installed as prime minister in a parliamentary vote after a court ruling removed Thaksin's allies from power. This came after anti-Thaksin protesters occupied two Thai airports for a week.
Four prime ministers over the last 15 months have failed in their attempts to stabilize the country and the dramatic evacuation of foreign leaders from the summit venue by helicopter is another embarrassment for the Thai government.
Prime Minister Abhisit has repeatedly resisted calls to step down despite the days of anti-government protests, both in Bangkok and at the summit.
Thaksin, who lives in self-imposed exile to avoid jail on a corruption conviction, called in to his supporters Saturday, thanking them for their sacrifices.
Missed opportunites at cancelled summit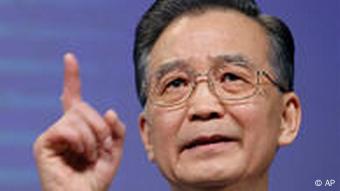 Wen Jiabao was meant to announce a multi-billion dollar investment fund at the summit
The ASEAN summit was meant to bring together southeast Asian leaders with ministers from China, South Korea, Japan, India, Australia and New Zealand and UN Secretary General Ban Ki-moon to discuss the global financial crisis and North Korea's recent rocket launch.
Asian leaders were also expected to sign an investment pact with China. China has announced an offer of $15 billion in credit to ASEAN countries and a $10 billion infratructure investment fund.
The ASEAN meeting had already been delayed by clashes between anti-government and pro-government supporters. Thai officials now say talks will be held in about two months' time.