The summit between delegates of the Association of Southeast Asian Nations (ASEAN) and six dialogue members was also called off, after hundreds of demonstrators broke into the luxury hotel hosting the meeting on Saturday.
"The government has a duty to take care of the leaders who will depart from Thailand," Prime Minister Abhisit Vejjajiva said in an address on Thai television.
"In this extremely serious situation, the government has decided to impose a state of emergency in Pattaya and Chonburi to deal with the situation."
Foreign leaders were being evacuated by helicopter.
Ahead of the summit, the Thai government had made assurances that it would take whatever measures necessary to prevent such a situation. Officials have now acknowledged that security forces had failed to do just that.
"Red Shirts" Protestors
The protesters, who support former Prime Minister Thaksin Shinawatra, held an impromptu press conference to air their grievances.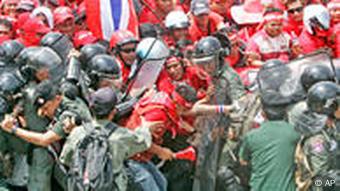 The anti-government protesters have also clashed with their pro-government rivals
Protest leader Arisman Pongruangrong said, "We want to find Prime Minister Abhisit Vejjajiva to tell him he cannot be prime minister any more.
"We want to tell him that if he holds an election and wins fairly then we will accept him. Now he is illegitimate and we cannot stand for this."
The "Red Shirts" protesters said they will remain inside the hotel until Abhisit resigns and claim they stormed the building after three fellow supporters were wounded in earlier clashes with pro-government demonstrators.
Prime Minister Abhisit has repeatedly resisted calls to step down despite days of anti-government protests, both in Bangkok and at the summit.
Summit postponed, not cancelled
Summit meetings between ASEAN and ministers from China, South Korea and Japan had been delayed earlier by clashes between anti-government and pro-government supporters. Thai officials said talks would be held in about two months' time.
The summit groups ASEAN leaders plus their counterparts from China, Japan, South Korea, India, Australia and New Zealand.