In a chaotic parliamentary session on Wednesday, lawmakers called on President Ashraf Ghani to resign due to his mishandling of the battle for Kunduz. Afghan reinforcements to support a counter-offensive were yet to arrive after the northern city fell to Taliban insurgents on Monday.
"It is shameful how they [the government] have dealt with the situation in Kunduz," said Iqbal Safi, a member of parliament from Kapisa province.
Exhausted Afghan police and soldiers successfully held off a Taliban attack on the airport, while waiting for supporting troops.
"The Taliban still holds their positions. The reinforcements from Kabul and Takhar have been ambushed and could not reach Kunduz," said Sayed Asadullah Sadat, a council member from the Kunduz province. "I seriously doubt the government's capability in retaking Kunduz if they cannot even send reinforcements successfully."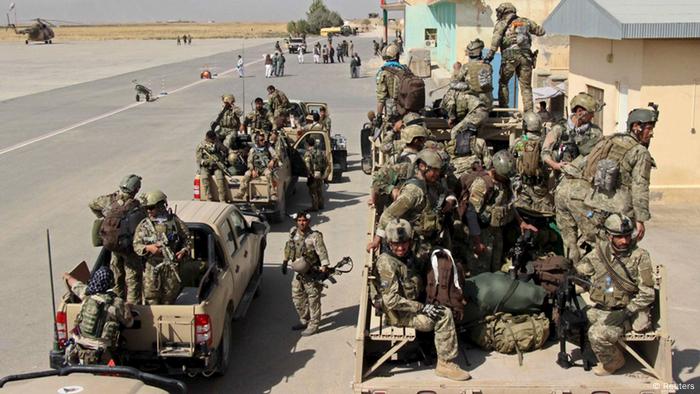 Afghanistan's reinforcements have been slowed down by mines and roadblocks set up by Taliban insurgents
Ghani's deputy spokesman, Sayed Zafar Hashemi, said the parliamentarians' had the right to protest, but "for the president, the first priorities are the safety of the citizens in Kunduz and clearing the area of terrorists."
NATO reinforcements arrive
NATO officials reported on Wednesday that its special forces successfully reached Kunduz to support and advise Afghan troops. The NATO forces are comprised of US, British, and German soldiers, according to an anonymous military source who told the AFP news agency.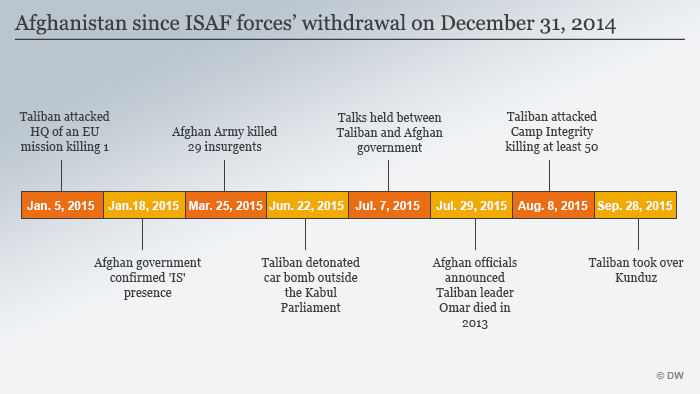 Col. Brian Tribus, a spokesman for the US forces in Afghanistan, confirmed that three airstrikes have so far been carried out by US forces. The most recent two were carried out overnight around the airport "for coalition force protection reasons."
An Afghan intelligence official told AFP that overnight bombing had killed Mawlawi Salam, the Taliban's "shadow governor" for the province, along with his deputy and 15 other fighters.
Afghanistan's Public Health Ministry spokesman, Wahidullah Mayar, said on his official Twitter account that 30 people have been killed in the fighting, and more than 200 inured. "Around 90 percent of them are civilians," he tweeted.
The taking of Kunduz by the Taliban on Monday was their biggest single success in 14 years of conflict, and highlighted the group's ability to conduct large-scale operations away from their rural mainstays.
rs/sms (AP, AFP, dpa, Reuters)