Laura Dahlmeier put in an almost flawless shooting performance to win the women's 10km biathlon pursuit in a time of 30.35 minutes on Monday and claim her second gold of the Pyeongchang Games. This makes her the first female biathlete to win the sprint and pursuit double at the same Olympics.
Two-time Olympic champion Anastasiya Kuzmina of Slovakia edged out France's Anais Bescond in a sprint finish to win a thrilling battle for silver, crossing the finish line 29.4 seconds behind Dahlmeier.
With the racers starting based on where they finished in the sprint, Dahlmeier started the pursuit with a 24-second advantage.
Early on in the race, Kuzmina burst out of the pack to mount an early challenge to the 24-year-old German. However, Dahlmeier kept her nerve as the two arrived at the same time for the third shoot, hitting all five targets, while Kuzmina had two misses – ending her hopes of the gold medal. Dahlmeier never looked back from there, skiing off into an unassailable lead, before firing off a final salvo of five perfect shots, all but sealing her victory.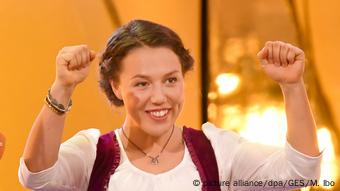 Dahlmeier was named Germany's female athlete of 2017
Dahlmeier could just be getting started, as she has several more chances to win medals, a year after she claimed five golds and one silver at the world championships. That success helped earn her the honor of being named Germany's female athlete of the year for 2017.
Surrounded by snow
Born in 1993 in Garmisch-Partenkirchen, the host of the 1936 Winter Olympics, it is perhaps not surprising that Dahlmeier began skiing at an early age. At first she preferred downhill, but switched to biathlon at the age of 10 after discovering how much she enjoyed the shooting aspect of the sport.
Dahlmeier won three titles at the world junior championships in 2013, the same winter that she made her debut at the senior world championships and in the World Cup. She won her first world championship title in the relay in 2015, and followed that up with her first individual victory, in the pursuit in 2016.
Dahlmeier also spends much of her free time in the mountains – whether she be climbing or discovering them on her mountain bike. Last summer she scaled the Alpamayo (5,947 meters, 19,511 feet) in Peru.
pfd/ (dpa, Reuters)