On June 16, 1942, Fanya Barbakow was hiding in a pit her family had dug out under their cellar in their garden. Their house was located in the Polish ghetto of Druja, now in Belarus. The Germans would liquidate the ghetto a short time later.
When she wrote the following letter, Fanya had already realized what was coming:
"My dear ones!! I am writing this letter before my death, but I don't know the exact day that I and all my relatives will be killed, just because we are Jews. [...] My hand trembles and it is hard for me to finish writing. [...] How I yearn to live and reach some good in life. But all is already lost… Farewell. Your relative Fanya in the name of everybody: Father, Mother, Sima, Sonia, Zusia, Rasia, Hatza (Yehezkel). And in the name of Zeldaleh the toddler, who doesn't understand anything yet."
Read more: 'Holocaust commemoration part of Germany's national memory' Merkel
'We are being led like sheep to the slaughter'
It was the last letter written by Fanya Barbakow, before the Nazis discovered her family's hiding place and they were all murdered. Fanya died before turning 20.
Her letter, however, survived. A neighbor found it and later gave it to Fanya's nephews.
Today, the letter is part of an online exhibition of the Holocaust memorial Yad Vashem. Anyone can read its entire contents, including the rallying cry she added after signing off for her entire family: "Brothers from all countries, avenge us. We are being led like sheep to the slaughter."
"Last Letters from the Holocaust: 1942" is the second part of an online exhibition; a first series of letters was written in 1941.
Altogether, the memorial presents 10 last letters from 1942. Written by people who were murdered during the Holocaust, they are their last lines before dying. The letters, later donated to the Yad Vashem memorial's collection, come from all over Europe, countries like Poland, Romania and France, and were sent to relatives in England or Palestine.
"These letters are extremely meaningful," said Yona Kobo, curator of the exhibition, speaking with DW. "The handwriting is almost like these people's fingerprint. They touched the paper. You can see stains on them, and sometimes even the tears that were shed on them."
'People like us'
Over 200 million pages of documents are stored in Yad Vashem's archives in Jerusalem. That includes some 130,000 accounts from Holocaust survivors, along with original personal documents that belonged to the prisoners of the Mauthausen concentration camp, kept in an old wooden file cabinet. Thousands of letters written by victims of the Holocaust are also part of the collection.
Kobo picked 10 of them for the online exhibition. "It was difficult to decide which ones. I had to read a great number of them," she said.
Kobo explained that she tried to find the ones that expressed topics people could easily identify with today, such as missing one's family — everyone knows that feeling. Children's drawings, which resemble anything a child could draw today, remind us that they were "people like us," said Kobo.
Kobo put on white gloves before pulling a bundle of papers out of an envelope. At the top was a faded drawing of a house, above which is written in Hebrew the word "house." Salman Levinson drew it for his aunt in 1941, to thank her for a present she had sent for his 9th birthday. The young boy's drawing, along with a postcard written by his mother, reached the aunt in the former British Mandate of Palestine. At the time, she didn't know it would be the last thing she would receive from her nephew.
Read more: Opinion — Should school trips to Auschwitz be mandatory in Germany?
10 letters — 6 million dead
The period during which those letters were written, from 1941-1942, marks the beginning of the organized mass murder of Jews.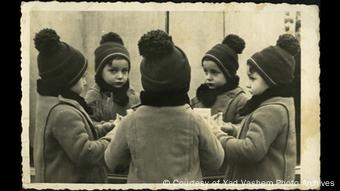 Salman Levinson, reflected here in a mirror, sent a drawing of a house to his aunt in Palestine (top photo)
Even before the Nazis decided to "annihilate" the Jews of Europe at the Wannsee Conference in early 1942, hundreds of thousands of Jews had already been murdered. Auschwitz and other extermination camps later systematized the process, leading to the murder of more than 6 million Jews.
Most of the people writing the letters did not know they would never see their family and friends again. Many tried to reassure their relatives, writing that everything was fine and that the war was ending, and that they would be getting together again soon.
For instance, Isaac Joseph Kornowski wrote from the Drancy internment camp in France in 1941: "[You need to] be even more courageous, and don't lose hope that soon we will be together again, as we were in the past. I hug you very tight, and again, one more time, we will see each other soon."
His wife Chaya and their sons Paul and Henri received the letter without realizing that a day later, Isaac would be deported to Auschwitz and murdered there.
"For the people who give us these letters, it feels like they're tearing out a piece of their heart," said the curator. However, she added, they know that Yad Vashem is the place where their relatives can be remembered forever. The online exhibition has incited more people to bequeath their relative's photos and letters to the museum.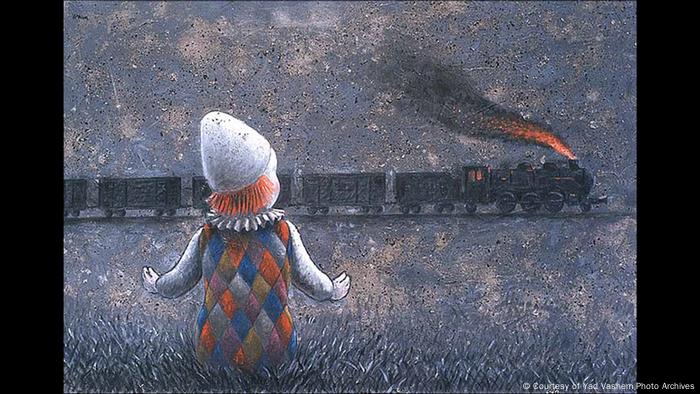 Isaac Kornowski's son drew this image, 'Transport No. 2,' in memory of his father
From dusty archives to the smartphone
"Instead of keeping them hidden in the archives, we are making these people's stories available on anyone's smartphone," said Kobo. "Every year, around 1 million visitors go to Yad Vashem. Online we can reach many million more. Technology isn't limited by borders."
The online exhibition also allows people from countries such as Iran or different Arab countries, who are banned from traveling to Israel, to learn more about the victims of the Holocaust.
The exhibition nevertheless remains one communication tool among many for Yad Vashem. "We still hold exhibitions in our museum, publish books and keep collecting eyewitness accounts," said Kobo. As the years go by, however, the few remaining Holocaust survivors will all be gone soon. "I prefer not to think about that day yet," said Kobo, whose own parents survived the Holocaust in Poland and Germany.
The letters will remain. They not only commemorate the people who wrote them and who were murdered by the Nazis, they also tell a story about the people who kept those letters, the survivors.
Among them are Isaac Kornowski's wife and children; all three survived. One of the sons, Paul, left France for Israel after the war and became a famous children's book author and illustrator. In memory of his father, he drew "Transport No. 2" — the train that had deported his father from Drancy to Auschwitz. It can be seen as a reply to his father's last letter, among all the letters that could never be answered.