At least 35 people were killed and dozens more injured in a giant landslide at a garbage dump on the outskirts of the Ethiopian capital, Addis Ababa, officials said Sunday.
The landslide occurred late Saturday night, destroying 30 makeshift homes belonging to squatters who live on the Koshe landfill and scavenge the dump for valuables, according to Dagmawit Moges, a city spokeswoman.
"We expect the number of victims to increase because the landslide covered a relatively large area," she said.
About 150 people are believed to be living on the garbage pile, but it was not immediately clear how many people were missing.
An Associated Press news agency reporter saw four bodies taken away by ambulances after being pulled from the debris.
Ruth Tadesee, who lives on the landfill with her family, was among those waiting for news.
"All my brothers and sisters were rescued but my mother is not answering her phone, she could still be inside that rubble," Tadesee said.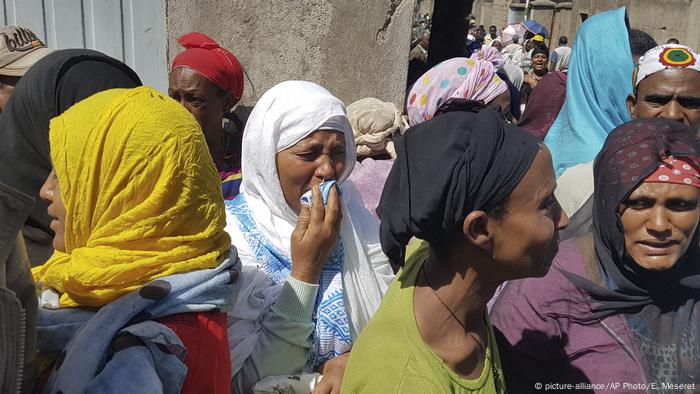 Local residents display their grief as bodies are recovered from the massive landslide
Politically restive region
The Koshe site has been one of the main garbage dumps for Addis Ababa for more than 40 years. City officials stopped using the landfill several years ago, but were recently forced to resume dumping at the site.
Farmers living in a politically restive region blocked entry to a newly-built landfill, forcing city officials to revert back to the Koshe site. The renewed dumping is believed to have triggered the deadly landslide.
Smaller landslides have occurred at the Koshe landfill in the past two years, but no more than three people were killed, Assefa said.
City officials are now vowing to move all squatters off the debris pile, but it won't happen quickly.
"In the long run, we will conduct a resettling program to relocate people who live in and around the landfill," said Addis Ababa Mayor Diriba Kuma.
City officials have recently tried to turn the garbage into a source of clean energy with a $120 million (112 euros million) investment. The Koshe waste-to-energy facility, which has been under construction since 2013, is expected to generate 50 megawatts of electricity upon completion.
The Ethiopian government imposed a state of emergency in October after several months of sometimes deadly protests demanding wider political freedoms.
bik/jlw (AP, AFP, dpa)