After a long deliberation period, Labour Party leader Jeremy Corbyn sacked his EU policy chief and moved his defense spokeswoman to another position in an attempt to tighten control over Britain's main opposition party. Labour announced that former junior education spokeswoman Pat Glass would replace Europe shadow secretary Pat McFadden, while Emily Thornberry would replace Maria Eagle as defense spokeswoman. Another member of the shadow cabinet, culture spokesman Michael Dugher, was also fired from his position.
Several Labour shadow cabinet lawmakers have openly disagreed with Corbyn and his positions during his four short months at the helm - especially in foreign and defense policy issues like intervention in Syria and the UK's nuclear weapons. Labour's finance spokesman John McDonnell said that Corbyn had recently questioned some lawmakers' loyalty to his vision for the party. McDonnell said that Corbyn was trying to "hold everyone together" while being "very clear about our direction of travel in terms of policy."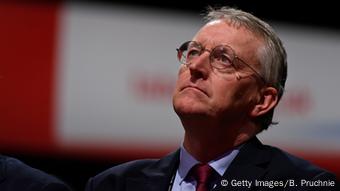 Shadow foreign minister Hilary Benn managed to avoid the reshuffle but had to pledge to 'work more closely' with Labour leader Jeremy Corbyn
Corbyn was elected party leader in 2015 after campaigning for a major overhaul in Labour's image. With a long-standing background as a left-wing activist, Corbyn managed to attract younger voters and new members to the party after Labour lost the general election of May 2015 under Ed Milliband's leadership.
But a lack of unity within the party has proven to be a major stumbling block in parliament in trying to challenge the ruling Conservatives. Many Labour MPs have accused Corbyn of veering too far from the center.
Disagreements and rows played out on Twitter
Many Labour politicians were not pleased with the reshuffle. Angela Smith, MP for Penistone and Stocksbridge, tweeted that the sacking of shadow secretary for Europe Pat McFadden "smacked of insecurity and intolerance."
McFadden claimed he had been sacked because of comments he had made in parliament regarding the causes of terrorism, adding that Corbyn had taken a disagreement on the issue as a personal attack. Chris Leslie, Labour MP for Nottingham East, criticized the move on Twitter.
Maria Eagle was in support of renewing Britain's "Trident" nuclear submarine program, leaving her at odds with Jeremy Corbyn who has been opposed to the somewhat antiquated defense system on both financial and moral grounds. Eagle's replacement, Emily Thornberry, has voted against renewing Trident.
Culture spokesman Michael Dugher meanwhile changed his Twitter biography to read "sacked by Jeremy Corbyn for too much straight talking, honest politics" - an ironic twist on Corbyn's own campaign slogan.
Three resignations in response to reshuffle
Labour's railway spokesman Jonathan Reynolds, junior foreign affairs spokesman Stephen Doughty and armed forces spokesman Kevan Jones all quit in response to Corbyn's string of sackings while also citing differences with Corbyn.
Jonathan Reynolds explained his position in a Facebook posting addressed to Corbyn: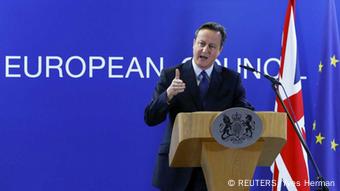 British Prime Minister David Cameron hopes to gain some concessions on his trip to the CSU meeting in Germany
"I understand your need for a greater degree of discipline on the front bench and therefore believe it would be more appropriate to advocate these causes as a backbencher."
Hilary Benn remains as shadow foreign minister
In a surprise move, Labour's shadow foreign minister, Hilary Benn, tipped by many as a prime candidate for dismissal, got to stay in his position. However, it appeared that Benn also had the reins pulled in on the liberties he could take in his position - after his high-profile defiance of Corbyn on the issue of UK airstrikes against the so-called "Islamic State" in Syria.
"Hilary Benn has ensured that he works more closely with Jeremy in the future and that he will be representing the views of the Labour Party," Corbyn's closest confidante McDonnell said.
Clashes with Conservatives?
Corbyn also took some serious knocks from David Cameron at Prime Minsiter's questions in the House of Commons on Wednesday. Cameron responded to Corbyn's questions - all dedicated to the issue of flood responses - with derision at the drawn-out reshuffle and the perceived disharmony among the opposition.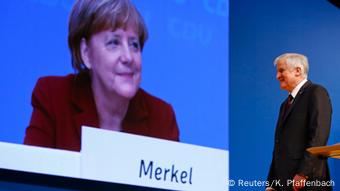 German Chancellor Angela Merkel and CSU leader Horst Seehofer do not appear to see eye-to-eye on the issue of introduction immigration caps
Cameron travels to Bavaria on Thursday to attend the Christian Social Union (CSU) party conference, along with German Chancellor Angela Merkel. This follows his announcement on Tuesday that his cabinet ministers would be allowed to campaign for or against Britain's membership in the EU in the run-up to he referendum.
Currently negotiating a number of reforms to the EU, Cameron asked ministers not to reveal their positions before the terms of his renegotiations became clear. The CSU conference visit forms parts of these continuing talks - with politicians on both the left and right in Germany showing some support for his more controversial proposals, especially a bid to limit access to state welfare for EU migrants in a new country.
ss/msh (Reuters, AP, AFP)